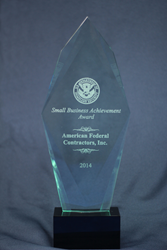 Reston, Virginia (PRWEB) April 30, 2014
American Federal Contractors, Inc is a recipient of the 2014 Department of Homeland Security's (DHS) Small Business Achievement Award. The award recognizes AFC's outstanding work in support of the DHS mission – in particular, the work performed for the Federal Law Enforcement Training Center (FLETC). AFC was nominated for their performance at the FLETC, Artesia, New Mexico, notably for identifying problem areas, offering solutions, and helping to support the FLETC Student Support Services in FY13.
Director Kevin Boshears of DHS Office of Small and Disadvantaged Business Utilization (OSDBU) presented the award to AFC, at the 10th Annual DHS Small Business Awards Ceremony on April 15, 2014. Owner of AFC, Mimi Kim, and President Bruce Schomaker accepted the award. "When we found out we had received the award, we were honored and pleasantly surprised," said Mr. Schomaker. "Not because we did not deserve it, but knowing that we were chosen when there are so many small businesses doing great things for the US Government. We knew our folks at the FLETC in Artesia NM were providing top notch services all along – getting recognized for it makes us take even more pride in the work we do. We have a great team in Artesia from top to bottom. And, the support we receive from the Contracting Office is second to none – it is a true partnership."
The annual DHS Small Business Achievement Award recognizes exceptional contributions to the Homeland Security mission by a select group of small business firms from across the country. The award includes nominations and substantial participation by the broader DHS procurement community and program offices in the DHS components. AFC was one of two companies that have been selected by the DHS FLETC to receive the award.
AFC is the prime contractor tasked with facilitating all training conducted at the FLETC in Artesia, NM. The contract covers 11 functional areas which includes transportation, government vehicle support services, driving range support, firing range support, A/V classroom support, education aides, and role players, amongst others.
American Federal Contractors, Inc (AFC) is a minority woman-owned business specializing in the support of Government Agencies and their mission to train members of the US Military as well as Federal, State and Local Law Enforcement personnel. Since 2004, AFC has established an impressive record of preparing US Military for overseas deployment through simulated war-zone training and cultural awareness training. AFC stands committed to earn the highest level of customer satisfaction through dedicated leadership, open communication and an unwavering goal to exceed our clients and partners support needs.