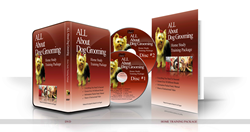 "the new student can slowly transistion from one career into this one, and they will never have to leave home to learn. "
Jacksonville, FL (PRWEB) May 01, 2014
With no experience required they take any student, man, woman or older teenager and create a successful educational experience for them. They can groom anywhere, from rural towns to big cities
Often times, people lack the time it takes to get a specialized certification in order to work with pets. Others can never locate the proper facilities nearby to learn the required skills of a professional dog groomer. This course eliminates both problems as the new student can slowly transition from one career into this one, and they will never have to leave home to learn. Many people dream of having their own company that can leave a person feeling fulfilled and happy. With Doggett's course entitled "All About Dog Grooming", working with dogs and starting a grooming business can become an enjoyable realty. Worldwide people are turning their passion for dogs into a highly profitable and recession proof occupation because of this exceptional training.
"All About Dog Grooming" provides an avenue to start a dog grooming business at home or mobile in just a few short weeks. Those who do not desire self-employment will still enjoy an exciting career working at a local vet office, grooming salon, pet store, adoption agency or humane society. Perhaps a person is simply interested in caring for their own pet. This company provides all that's needed to make any of these goals achievable.
Each affordable dog grooming training package provides: a study manual, 8 hours of dog grooming training DVDs, one-on-one coaching with the Doggett's themselves, private critiquing of the practice work performed on the dogs and a certificate upon completion.
The extremely popular dog grooming course teaches how to properly bathe, clipper and scissor style over 30 popular breeds. Each person will learn: brushing and de-matting techniques, bathing and dipping, blow (fluff) drying, coat conditioning, ear plucking and cleaning, eye care, nail trimming, handling the clippers and simple maintenance of them and much more. Users will also learn about animal health including: skin conditions and care, ear infections, teeth and feet problems, sanitation and parasite control.
The reference/training manual contains 21 chapters and includes self tests to enhance learning. There's also important management tips so each individual can learn to set up shop successfully. Information regarding zoning regulations, scheduling, pricing and naming their new business and bookkeeping are just some of the topics covered. Safety of the animal and the groomer are stressed through out the course. Also supplied is a free bonus marketing pack and 3 wall reference charts to help the new groomer get off to a great beginning. With "All About Dog Grooming", every single user is thoroughly equipped to handle their new career.
The course comes with an ample one year guarantee and is priced so that everyone can afford to begin right away. $249.95 is the special Spring pricing, which reflects a discount of $50.00 from the regular price of $299.95. Those who qualify may use PayPal's 6 month deferred payment plan arrangement. All major credit cards are also accepted.
Richard and Carol Doggett have revolutionized the dog grooming industry and have made it accessible to all. For more information about all the lucrative benefits of this amazing course log on to: http://www.LearnToGroom.com or call toll free (888)800-1027 and discover how people all over are easily transitioning into a very rewarding career field.