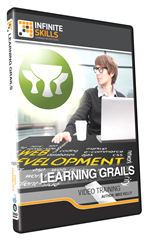 Learn Grails, a powerful open-source framework, at your own speed.
(PRWEB) April 30, 2014
Software training firm Infinite Skills Inc. this week introduced its "Learning Grails Tutorial," an introductory course teaching the essentials of this user-friendly web application platform through the expert-guided development of a project web app.
Grails is an open-source framework that provides an integrated environment for developing web-based applications. Grails is an ideal option for Java and Groovy developers seeking an integrated environment, and for developers without experience in Java seeking a high-productivity environment for web app development.
Infinite Skills' "Learning Grails Tutorial" covers all the essentials for starting to build web apps using Grails, teaching all the phases of the development process from installing Grails to deploying your application.
Learning Grails Training Video - Streaming
Course author Mike Kelly started programming in his youth and has spent the last two decades providing technical training in applications, network engineering, and programming. He runs a Grails training blog and publishes a Grails magazine available from iTunes.
The course is broken down based on the components of a standard web application.
Kelly begins by explaining how Grails works on the model view controller (MVC) paradigm for programming, and follows up by showing how to install the Grails environment on various operating systems.
The course then goes in depth with each of the core components as Kelly explains the layers of a Grails application, showing students how to construct the data, web, and logic layers.
Finally, Kelly demonstrates how to put the finishing touches on the customer rewards application and deploy it to the web.
"If you have used a website such as Amazon, Facebook, or an online banking application," Kelly explains, "then you have experienced the power and functionality of enterprise web apps. These types of apps access data from a database, process the data through business rules, and send the results to dynamically generated web pages."
"Grails provides a framework for building exactly these kinds of applications, and in this course you will learn how to build and deploy a working web app using Grails."
Free demo videos and a full list of course contents can be found on the Learning Grails Tutorial training page of the Infinite Skills website: http://www.infiniteskills.com/training/learning-grails.html.
Infinite Skills offers its Learning Grails Tutorial either as a DVD or a direct download from the company website at a retail price of $49.95. Though the compatibility of programs varies, all Infinite Skills titles and formats are compatible with both Mac and Windows operating systems, and shipping is available around the globe. Additionally, Infinite Skills tutorials are supported by project files which correspond to examples in the videos.
About Infinite Skills Inc.
A leader in the field of software training, Infinite Skills designs its courses on a task-oriented model, teaching complex skills by providing hands-on examples and guiding users as they carry out essential functions. Infinite Skills offers a wide range of software titles available as DVDs, digital downloads, and in iPad editions. Infinite Skills now offers a subscription service, providing access to all its training content for a monthly fee, keeping with company's aim of delivering professional training to customers anywhere they want to learn.