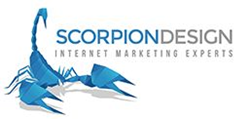 Valencia, CA (PRWEB) April 29, 2014
The winners have been decided in the 2014 Communicator Awards, and this year Scorpion Design, LLC will be taking home top honors for over 25 web projects in categories across the board. Widely recognized as among the largest and most competitive awards programs in the world of professional communication, the Santa Clarita-based company's monumental success in this year's Communicator Awards can be attributed to their ongoing growth and commitment to innovative online marketing.
Scorpion websites received 5 Gold Awards of Excellence and 21 Silver Awards of Distinction in a broad range of categories: Home Page, Health Care Services, Structure & Navigation, Law & Legal Services, Professional Services, Visual Appeal, Health, Mobile Site — Health & Wellness, and Mobile Site — Business.
The Communicator Awards panel received over 6000 entries this year from around the world. The contest was hosted and judged by the Academy of Interactive and Visual Arts (AIVA), an organization with well over 600 members prominent in the field of visual arts and media. These individuals hail from such renowned corporations and firms as Disney, Yahoo!, Keller Crescent, Lockheed Martin, Monster.com, MTV Networks, and Time Inc., among many others. Awards were granted based on creativity, innovation, and craftsmanship.
"This year's class of entries is a true reflection of the progressive and innovative nature of marketing and communications," stated Linda Day, executive director of AIVA, in a press release. "On behalf of the entire Academy I want to applaud this year's Communicator Awards entrants and winners for their dedication to perfecting their craft as they continue to push the envelope of creativity."
Scorpion Design, LLC is an award-winning Internet marketing company with widespread impact in the world of online communication. Based in Southern California, the innovative marketing company focuses on excellence with the goal of maximizing clients' web presence while remaining on the cutting edge of new technology and the ever-evolving world of online marketing. Visit them today at http://www.scorpiondesign.com.