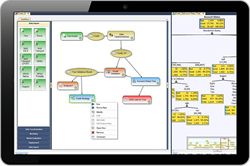 Market-leading Decision Trees with a new automated workflow
Toronto, Canada (PRWEB) May 01, 2014
Angoss Software Corporation (Angoss) announces the release of Angoss KnowledgeSEEKER® 9.0, a new product which introduces a powerful automated canvas for building, displaying, refreshing, and reusing analytic workflows. The new user-friendly visual canvas enables the creation of a workflow in KnowledgeSEEKER 9.0 in minutes with a few simple drag and drop steps – eliminating the need to write code, increasing efficiency.
Widely known for its industry-leading, patented Decision Trees and its wizard-driven graphical user interface, Angoss KnowledgeSEEKER is a data mining and predictive analytics software tool helping data analysts and business users with data exploration and segmentation, model development, evaluation, and deployment. KnowledgeSEEKER is used for risk, marketing, sales, and CRM analytics by business and expert users alike. Data mining and predictive analytics capabilities include data preparation, discovery, profiling, visualization, Decision Tree analysis, and strategy design and deployment.
With the new automated workflow functionality, process nodes are simply dragged onto the canvas where they can be connected to form a workflow and run individually or in batch sequentially with the ability to add new data or refresh with the click of a button. The workflow provides instant visual documentation of analytical tasks. SAS code can be generated for the entire workflow or any individual segment.
Features released with KnowledgeSEEKER 9.0 include:

Workflow Automation - Powerful workflow for building, displaying, refreshing and reusing analytic workflows, user friendly visual representation that enables the creation of a workflow in minutes, providing instant documentation and eliminating the need to write code.
Variable Selection Enhancements - Visual exploration of variables with the Characteristic Analysis wizard, allows users to see and understand relationships and behaviours – quickly providing accurate assessments to support variable reduction. Multiple Measures of Predictive Power allow users to effortlessly sift through variables and in a matter of minutes select the most predictive variables.
New Weight of Evidence Optimizer - Flexible and intelligent Weight of Evidence Optimizer (WOE) reduces time spent on manual coarse classing and binning by up to 50%. The flexible WOE Optimizer allows users to optimize all variables automatically with the click of a button, or by selecting individual variables of choice. The user-friendly interface displays a side by side view of a visual Decision Tree Editor, variable mapping table and line chart.
SAS Code Generation - SAS code generation for entire workflow or any segment.
Additional Resources
Video: KnowledgeSEEKER 9.0 Quick Tour
Data Sheet: Angoss KnowledgeSEEKER 9.0
Webcast: Introducing KnowledgeSEEKER 9.0
About Angoss Software Corporation
Angoss is a global leader in delivering predictive analytics to businesses looking to improve performance across risk, marketing and sales. With a suite of desktop, client-server and big data analytics software products and cloud solutions, Angoss delivers powerful approaches to turn information into actionable business decisions and competitive advantage. Angoss software products and solutions are user-friendly and agile, making predictive analytics accessible and easy to use. Many of the world's leading financial services, insurance, retail, health care and information communication and technology organizations use Angoss predictive analytics software products and solutions to grow revenue, increase sales productivity and improve marketing effectiveness while reducing risk and cost. Headquartered in Toronto, Canada, Angoss also has an office in the United Kingdom. For more information, visit http://www.angoss.com.