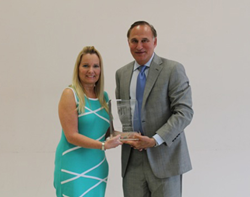 "I created a free, simple quick-read e-book with all of the things that I learned about effective grassroots lobbying," says hearing aid legislation advocate Jeanine Gleba.
(PRWEB) April 30, 2014
Six years after insurance coverage for hearing aids became law in New Jersey, grassroots activist Jeanine Gleba received national recognition as a 2013 recipient of the AG Bell Award of Distinction for her role in passing that legislation. During the ceremony on April 27, Gleba announced she has published a free e-book, "Warrior Mom's Guide to Passing A Law," which provides hands-on, useful tips for others seeking to pass legislation. The e-book is available at http://www.graceslaw.com.
Named in honor of Gleba's daughter, "Grace's Law" requires all health insurers in New Jersey to provide up to $1,000 coverage for each hearing aid prescribed for children age 15 and younger. Gleba's grassroots advocacy effort began in 1999 and spanned nine years, during which numerous bills were introduced in six legislative sessions. In 2008, her legislative effort won the support of 57 sponsors in both houses of the state legislature.
"Although I had no previous experience as a lobbyist, I was able to beat out the professional insurance industry lobbyists who were against me by spearheading my own grassroots advocacy campaign," said Gleba. "Over the years I have been called the 'Erin Brockovich of hearing aids' and a 'Warrior Mom.' As a result, I wanted to produce a simple quick-read compendium with all of the things that I learned along the way. I will be publishing a book about my experience later this year."
"Gleba harnessed the support and enthusiasm of other families, sought and gained media coverage, participated in awareness and fundraising activities related to hearing loss, and she and her daughter Grace never missed a committee hearing related to the bill," said Emilio Alonso-Mendoza, chief executive officer, AG Bell, at the award ceremony. "Despite opposition from insurance companies and a general unwillingness among legislators to pass any legislation with a fiscal impact, the bill finally passed the full assembly, gaining sponsors from every district in the state."
Gleba's daughter, Grace, was born with a severe sensorineural hearing loss in each ear. The Gleba family lives in New Jersey where approximately 1 in 1,000 children are born with a hearing loss. With newborn hearing screenings required by law, Gleba felt that newborn hearing screening by itself was futile if children with hearing loss could not get appropriate and affordable amplification.
Jeanine and Grace Gleba continue to work for expanded hearing aid coverage. Her dream is for insurance coverage for hearing aids to become a reality on the national level and to be standard inclusion for all policies for anyone with hearing loss.
The Alexander Graham Bell Award of Distinction is given to leaders outside the field of education and (re)habilitation who have made outstanding contributions on a local, national or international level to promote and address hearing loss-related issues. Past recipients include Senators Tom Harkin, Patrick Leahy and Olympia Snowe; ABC news anchors Diane Sawyer and Charles Gibson; and former presidents Jimmy Carter, Lyndon Johnson and John F. Kennedy.
For more information on Grace's Law and Jeanine Gleba, visit http://www.graceslaw.com.