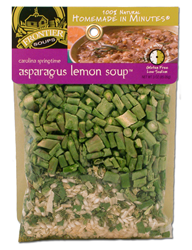 Because our soup mixes have no added salt, preservatives or MSG, they are a great choice for healthy summer meals, and our dip mixes are versatile enough to create easy appetizers and quick summer meals like lemon dill baked fish.
Waukegan, Ill. (PRWEB) May 01, 2014
Frontier Soups™, a producer of all natural gourmet soup mixes, now is offering its seasonal Frontier Soups Summer Soup Four Pack of warm weather favorites and other specials for healthy summer meals and easy summer entertaining menus.
A three pack of Frontier Soups easy appetizer and dip mixes is specially priced at $10 in May, and home cooks also have the opportunity to stock up on soups for healthy summer meals with no additional charge for shipping on its Baker's Dozen of 13 soups, said Trisha Anderson, company founder.
All of the mixes in the Summer Soup Four Pack are gluten free soups and vegetarian soups, and all are ready with just 30 minutes on the stovetop. Three of the mixes may be served either hot or cold, and all have variations to satisfy individual tastes, Anderson said. The seasonal four pack includes:

Carolina Springtime Asparagus Lemon Soup, filled with flavors from the garden, including scallions and asparagus and the cook's choice of additional fresh fennel or spinach. Scallops may be added for more protein.
Florida Sunshine Red Pepper Corn Chowder, a creamy summertime favorite served warm or chilled. For more veggie nutrition, broccoli and cauliflower may be added to the soup and topped with cheese for an inventive variation. Scallops, shrimp or chicken offer options for simple means,
Idaho Outpost Potato Leek Soup may be served as a rustic chunky potato soup with optional diced ham or chilled and pureed as an elegant vichyssoise-style soup, and
Mississippi Delta Tomato Basil Soup may be served hot or cold and, although it is a childhood favorite, also satisfies adult appetites with flavorful yellow peppers, rice and basil. Optional additions include feta cheese and shrimp.
For a no-fuss summer entertaining menu, home cooks can choose from eight easy appetizer and dip mixes, including meaty taco dip, zesty pesto tomato dip, and a green onion dip mix that also makes a delicious sandwich spread, Anderson said. "Because our soup mixes have no added salt, preservatives or MSG, they are a great choice for healthy summer meals," she said. "Our dip mixes are versatile enough to create easy appetizers and quick summer meals like baked fish flavored with our lemony dill dip mix and our chipotle dip mix makes a great seasoning for fajitas."
All Frontier Soups soup mixes provide a shortcut to homemade and can satisfy a wide variety of appetites from hearty to light with American favorites like chicken noodle soup, white bean chili, vegetable soup, corn chowder and Cincinnati chili. The company offers 28 gluten free soups and 11 vegetarian soup varieties. Frontier Soups is also helping women and children with AIDS in Africa by selling colorful dinner napkins made by HIV-positive women and donating all proceeds to the 501(c)3 nonprofit LifeStitches, which gives HIV positive women a way to earn a living and receive treatment for themselves and their children by sewing beautiful table linens. More information about the LifeStitches napkins and the company's products is available online at FrontierSoups.com, facebook.com/pages/Frontier-Soups/79282421800 and twitter.com/FrontierSoups, or by calling 1-800-300-7687.
About Frontier Soups:
Frontier Soups™ has offered aspiring and accomplished home cooks a shortcut to healthy, homemade meals with 34 soups, stews, chili and chowders inspired by the finest traditions in American regional cuisine since 1986. The gourmet soup mixes, including 28 certified gluten-free soup varieties, are available in such outlets as A Southern Season, Whole Foods, Central Market, The Fresh Market, Safeway, Great Harvest Bread Company and Omaha Steak stores, through national and Canadian distribution and online at http://www.FrontierSoups.com. Frontier Soups is certified as a woman-owned business by the Women's Business Enterprise National Council. The company is located at 895 Northpoint Blvd., Waukegan, IL 60085. More information is available online, by calling 1-800-300-7687 or by connecting on Facebook, facebook.com/pages/Frontier-Soups/79282421800 and Twitter, twitter.com/FrontierSoups.