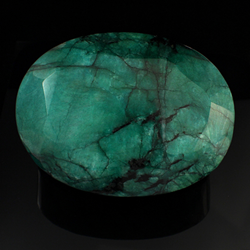 The worlds largest faceted emerald worth over $1.25 Million.
Saint Petersburg, FL (PRWEB) May 01, 2014
Happy Mother's Day for the May mothers!
Emerald is the birth stone of May and this incredible emerald has been valued north of $1.25 million and will hit the auction block on America's Auction Network on May 8. You can see the massive emerald gem collection here.
Emerald, the birthstone for the month of May comes from geologic events that took place hundreds of millions of years ago deep within the Earth's crust.
Emerald crystals, like all other naturally occurring gemstone crystals, grow one molecule at a time and take a very long time to create a gemstone.
Here at America's Auction Network, we are going to be auctioning some of the largest emerald gemstones ever on national TV. In order to participate in the auction, you must register before the auction.
One particular faceted emerald weighs almost 60,000 carats. While the stone isn't gem quality, and we know it has been dyed to enhance the color, what makes it special is its massive size. If it was solid, untreated emerald, you would be looking at tens of millions of dollars. Imagine how long it took Earth to create this massive stone.
Almost all natural emeralds contain distinct characteristic inclusions and almost all are treated with oil or resin to fill tiny fissures and cracks. It is the presence of flaws and oil which makes it quite easy to identify and distinguish natural emeralds and beryl amongst other similar gemstones. Artificial light will expose and amplify inclusions and fractures that prove the stone to be a natural emerald. Emerald color is owed to trace amounts of chromium and vanadium, and color is best admired under natural daylight.
Emeralds can be found from as far afield as Columbia to Afghanistan, Zimbabwe, Brazil and Canada.
Emerald mining is almost exclusively done from host rocks, where the emerald has grown into small veins or on walls of cavities.
The Incas and Aztecs of South America, where the best emeralds are still found today, regarded the emerald as a holy gemstone.
The holy scriptures of the Hindus say that emeralds promise good luck and enhance the well-being.
Emerald is the official birthstone for May and the official anniversary gemstone for commemorating the 20th and 35th year of marriage.
See Emeralds for sale on AANTV here.
About America's Auction Network:
AANTV is a live TV Auction & Shopping Channel that is on-air 24 hours, 7 days a week on the following networks:
Watch Online Streaming on aantv.com
DirecTV ch. 324
Dish Network ch. 219
Time Warner
Bright House ch. 165
RLTV 2am - 6am
America's Auction Network is a licensed and bonded auction house bringing you the best in fine Jewelry and Gemstones, Rare Coins and Currency, authentic one of a kind Persian and Afghan Carpet and Rugs, Modern, Estate and Fine Art, Antiques and Collectibles and Coast to Coast Foreclosed Real Estate.