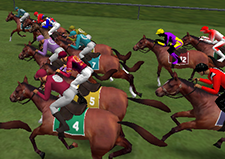 "It's the fans chance to breed, own and train their very own horses!"
Louisville, Kentucky (PRWEB) April 30, 2014
As Kentucky Derby 2014 approaches, Horse Racing Nation is releasing DerbyVille.com, a virtual racing stable game for fans of thoroughbred racing. Players will be able to breed, own, and race real horses of past and present, as well as view animated races and race replays.
"It's the fans chance to breed, own and train their very own horses," said Mark Midland, co-founder of Horse Racing Nation.
In DerbyVille the horses that players own and train are based on real bloodlines and actual running styles, as well as being able to breed custom combinations of pedigrees, and test how their offspring performs.
"If your favorite horse is Curlin, you can breed to him and the offspring will retain many of Curlin's characteristics," Midland said. "This creates the most accurate simulated world of horse racing available today."
Fans can also experience auctions, claiming, horse ownership and picking races for their stable of horses. They will be able to race head to head with other players and earn money, points and badges.
Players can sign up for free at DerbyVille.com and get five horses to start building the stable of their dreams.
DerbyVille.com is powered by ehorseracing.com and Horse Racing Nation.