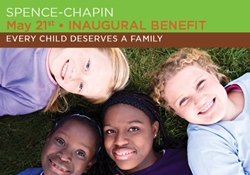 Every child deserves a family.
(PRWEB) April 30, 2014
Spence-Chapin Services to Families and Children will host its inaugural Every Child Deserves a Family benefit on May 21 at Three Sixty° in New York City. Honoring families formed through adoption, the gala is also a time to toast the contributions of extraordinary individuals in the adoption community. Spence-Chapin will present Adoption Excellence in Adoption Award to three honorees: Gerald Lodge, Chair of the Strategic Planning Committee on the Spence-Chapin Board of Directors, adoptive parent and Managing Director and Co-Head of the Global Industrial and Services Group of Credit Suisse; Natalie Cole, Grammy Award-winner and sister of first/birth mother Carole "Cookie" Cole; and a posthumous award to former Director of International Adoption at Spence-Chapin Flicka Van Praagh. A silent and live auction rounds out the event, featuring exceptional items including an Orphanage Trip to Colombia and a Winged Foot Golf Club Package among others.
The benefit is Spence-Chapin's main fundraiser and all proceeds will benefit the organization's mission to find loving homes for the world's most vulnerable children – older children, sibling groups, and children with special needs. "The barriers to adoption can be overwhelming to potential parents. These include financial obstacles, as well as emotional and legal challenges," says Emily Forhman, Executive Director of Spence-Chapin. "Adoptive parents want to offer a loving family to children of all ages, nationalities, and special needs but struggle to envision where help will come from. We rely on events like the benefit to raise critical funds needed to help the millions of children that need families and to sustain our work," says Ms. Forhman.
With philanthropists, all members of the adoption community, as well as celebrities in attendance, Spence-Chapin has attracted a diverse and adoption-knowledgeable crowd. Guests include two time Emmy Award-winning host of "Talk Stoop With Cat Greenleaf" and adoptive parent Cat Greenleaf; alternative rock musician and adoptive parent Tracy Bonham; and rising vocalist Vachelle Gil.
For tickets to Spence-Chapin's inaugural Every Child Deserves a Family benefit, go to http://www.spence-chapin.org/benefit or contact Kristen Lyndaker at (212) 360-0237.
Spence-Chapin is a full-service adoption agency bringing over 100 years of experience to a new mission: creating permanent, loving families for children most in need - older children, siblings and children with special needs. We are growing the pool of willing adoptive parents by lowering the financial barriers to adoption. We are educating these families as they consider adoption and we're reducing their fears that can overwhelm the process. Through our Modern Family Center we are helping each family member navigate their individual adoption stories with clarity and confidence. Our mission is driven by the simple belief that Every Child Deserves a Family.