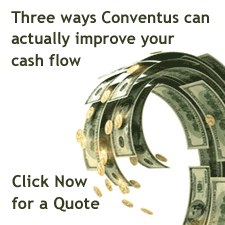 Woodbridge, NJ (PRWEB) May 01, 2014
With cash flow a key challenge facing New Jersey medical practices this year, Conventus will be offering complimentary, face-to-face cash flow improvement demonstrations at this year's Practice Management Conference scheduled for May 14-16 at the Revel in Atlantic City.
Between the changes in billing payments and an average increase in expenses, many practices are experiencing a decrease in cash flow, the amount of money a practice has on hand to run its operations. Conventus members leverage several privileges that help ease this challenge. These include interest-free payment plans, eligibility for annual dividends through the Conventus Owner Benefit Plan, and competitive rates. These rates are often augmented for new members switching from occurrence policies by up-front claims-made premium savings.
At this year's New Jersey MGMA Practice Management Conference Conventus will offer non-members a chance, by appointment on a first come, first serve basis, to see how these cash flow privileges can help them. Appointments can be scheduled online at http://www.conventusnj.com/cash-flow-demo/, by calling 877.444.0484, ext, 466 by May 12th, or by stopping by Booth 33 at the Practice Management Conference.