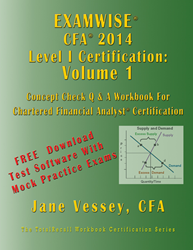 Even after investing an average of 300 study hours, only 38% of 2013 CFA Level I candidates could celebrate a triumph. More practice questions may help.
Friendswood, TX (PRWEB) April 30, 2014
That sleepless, stricken look on the faces of financial folks around the office may mean only one thing - they're candidates preparing for the fearsome Chartered Financial Analyst (CFA) Exams. It's already May and the annual June exams are just a month away.
The CFA is Wall Street's most valued professional credential and earning it can result in a hefty salary and big career boost. But it usually takes hundreds of study hours and four years to pass all three levels of the exam.
Passing the gruelling CFA Level I exam on the first attempt is notoriously difficult. LinkedIn discussion groups teem with apprehensive queries about how many tries to make before giving up. The test requires mastering six volumes of CFA curriculum. Even after investing an average of 300 study hours, only 40% of candidates can celebrate a triumph.
Thankfully, test-takers seeking tips for last-minute preparation can find solid advice from London-based CFA exam instructor Jane Vessey. A CFA charter holder with 20 years' experience in international investment management, Vessey has spent the last 15 years as a professional CFA exam trainer. She's also author of the popular, ExamWise 2014 CFA Level I: The Candidates Question and Answer Workbook for Chartered Financial Analyst Exam, Volumes 1 and 2, both published by TotalRecall Publications, Inc.
Vessey's last-minute study advice emphasizes that candidates assess their knowledge status and revise study time and strategies accordingly. She offers there five success tips for the final harrowing stretch of CFA exam prep:
1) Assessing knowledge and exam readiness.
If candidates have finished studying all the study sessions, they should spend the coming month on review and tackling practice questions, plus timed mock exams. If not, it's time for an urgent review of their study timetable. Candidates way behind on their original study plan must be realistic in devising a sensible approach. How many hours can they reasonably set aside to finish a first review of the material a few weeks before the exam?
2) Top priority: focusing on key words in each Learning Outcome Statement.
Candidates need to look at key words in each LOS for the action required – is it 'calculate', interpret ', or 'describe' a concept? At this stage, no one has the luxury to spend time on studying material not related to an LOS.
3) Determining material that's a waste of study time.
Topics experienced as really tricky or requiring a lot of time to comprehend may signal it's time to weigh the odds. Is the topic a key concept? Is it likely that more than one or two questions about it will actually be on the test? If not, Vessey advises, "Don't waste any more time and move on to the next topic. You can probably get well over 30 questions incorrect and still pass the exam."
4) Practice, practice, practice – answering hundreds of questions to reach 80% correct.
Practice questions help identify gaps in knowledge and the simulation gives candidate ease in answering multiple choice questions quickly. Vessey again advises, "Aim to be achieving 80% on practice exams. Get in the habit of reading questions carefully, but don't spend too long on one question. You'll be under time pressure in the real exam, so mark 'iffy' questions in the booklet. If there's time, come back to them if you're not sure of an answer or need to check a calculation."
5) Calculator skills must be top-notch!
Rapid-fire function key use and nimble fingers are critical under pressure. Exam time is no time to be figuring out how the cash flow (or any other) function works.
Jane Vessey's two volumes of CFA Level I practice questions are available from Amazon.com, Barnes and Noble, Books-a-Million, and other booksellers: ExamWise 2014 CFA Level I Volume 1 - The Candidates 450 Question And Answer Workbook For Chartered Financial Analyst Exam and the companion volume 2.
The Publisher, TotalRecall Publications, offers CFA candidates free mock exams via a test engine download at http://www.FinancialExams.com.
Jane Vessey, CFA, graduated in Mathematics from Oxford University and is a CFA charterholder. She manages a training company in the United Kingdom specializing in financial analysis and investment. After 20 years in the investment management business in London, Tokyo, and Indonesia, she now lectures at leading business schools and trains investment practitioners in top financial firms. She has been a visiting lecturer at Cass Business School teaching classes in asset management and valuation and is a visiting lecturer at Cranfield Business School. She has developed online training programs for students taking the CFA examinations and teaches CFA preparatory courses at a number of universities.
Located in Friendswood, TX, near Houston, TotalRecall Publications, Inc. was founded in 1998 by Bruce Moran, a former NASA IT professional who transitioned into computer instruction and educational materials. The company began with the introduction of study guides and innovative Q&A testing software for numerous computer certification exams. In 2005, TotalRecall applied these successful formats to the financial industry and launched products for the Chartered Financial Analyst (CFA) exams for Levels I and II. In addition to the ExamWise Q&A workbooks, the company also publishes the comprehensive CFA study guide A-Plus Study Notes CFA Level I Certification: A Complete Course of Study for Chartered Financial Analyst, by Samuel J. Gottlieb, CFP, CFA. Gottlieb also writes a similar book for Level II. TotalRecall publishes more than 200 non-fiction and fiction titles, all distributed worldwide through book retailers and wholesalers and via eBook databases such as ebrary, EBSCO, and Books24x7.com. See http://www.FinancialExams.com for a complete listing of financial books.