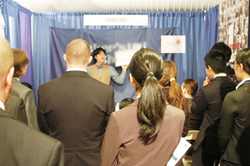 "The Career Forum for Positions in the U.S. is an opportunity to address the needs of companies seeking qualified and motivated Japanese-English bilinguals," says Account Executive, Sohei Matsuda.
New York, NY (PRWEB) May 06, 2014
DISCO International, Inc., (DISCO) will hold the Career Forum for Positions in the U.S. in New York, a job fair, bridging hiring managers and recruiters seeking Japanese-English professionals and job seekers who possess such skill-set, at the Metropolitan Pavilion on June 14, 2014.
Companies with positions in the U.S. who want to recruit Japanese-English bilinguals with immediate intent to work can possibly hire onsite (or making an offer on the spot), unlike other conventional job fairs. Begin receiving e-resumes, screen and invite target candidates to your recruiting space all before the event doors open. Our pre-event application system simplifies the recruiting process, allowing hiring managers to concentrate on effective and efficient interviews with the most successful candidates at the event. With our years of trusted service for candidates and companies alike, you will be hard-pressed to find a more cost effective and beneficial event anywhere else.
Hiring managers and recruiters can also utilize the Career Forum for resume acceptance, interviews, company presentations and networking.
Japanese-English bilingual professionals with less than 7 years of experience, who can legally work in the U.S., including new graduates with Optional Practical Training (OPT) are expected to participate as job seekers.
For more information: http://www.careerforum.net/event/pny/
About DISCO International, Inc.
DISCO International was established in 1989 as a human resources firm specializing in Japanese-English bilingual recruitment. Since then, the company has connected over 200,000 candidates with more than 5000 world-class companies through its Career Forums and CareerForum.Net (CFN) online job site. In 2002, DISCO launched the ESL program application site "ApplyESL.com" in five languages Japanese, Korean, Chinese, Spanish, and English, for those who wish to study English abroad. For further details: http://www.discointer.com