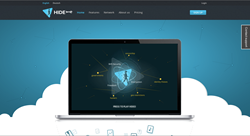 Hide.me is a highly secure and privacy-focused VPN service with more than 350,000 users across the globe.
Podgorica, Montenegro (PRWEB) April 30, 2014
The .ME Registry is proud to announce that hide.me is the latest graduate from the .ME Premium Domain Program.
Hide.me, which was formerly hide.io, is a highly secure and privacy-focused VPN service with more than 350,000 users across the globe. Customers from the US, to Australia, to Thailand – use hide.me to encrypt and anonymize their Internet activity. The rebrand from hide.io was launched in celebration of their new user interface design and enhanced features.
Not only is the service cleaner, faster and loaded with information to make hide.me easier to use but significant changes have also been made to the technology. hide.me now offers SOCKS proxy and has optimized their entire backend to add increased security features and fail-safes. In addition, it boasts a blazing fast interface, more stable connection, and an overall faster VPN experience.
The switch to the .ME domain is the icing on the cake to let users know the service has been upgraded with them in mind. Predrag Lesic, the CEO of the ME Registry, states: "We are very pleased that hide.io has chosen to rebrand as hide.me with a .ME premium domain. This is an incredibly personal service and when their application came in to the Premium Domain Program we knew that their service was a perfect fit for the domain. Awarding hide.me to them was a very easy choice."
hide.me is made up of an international team of IT security experts who believe everyone deserves protection and privacy on the Internet. The hide.me team says: "Our service is very personal and when we began our rebranding efforts, we knew we needed a domain that would reflect our mission. We couldn't get more personal than .ME to let our users to know that our service is for and about them. We believe in the Internet's founding vision—to let people explore information from around the world in a free, decentralized way. Rebranding with a .ME domain helps us to articulate our vision in the URL."
hide.me offers users enhanced Wi-Fi security, global TV, the latest VPN protocols, anonymous IP address, and the ability to bypass censorship. Users may also set up to 5 different VPN connections.
For more information, on hide.me please visit: https://hide.me
To learn more about the .ME Registry, developing a .ME business idea and many clever uses of the .ME domain or to simply find out how to register a .ME domain name, please visit http://domain.me/
About the .ME Registry:
.ME Registry (the d.b.a. of doMEn, d.o.o.) was chosen by the government of Montenegro to operate the new .ME domain name extension. .ME Registry partners include ME-net, GoDaddy and Afilias Limited. Me-Net is a Montenegrin registrar and its founders are leaders of the ICT sector in Montenegro, who among other things participated in a successful privatization of Montenegrin largest ISP. GoDaddy, the world's largest technology provider dedicated to small businesses, is the world's No. 1 domain name registrar. Afilias Limited is headquartered in Ireland and is a leading registry services provider, supporting more than 15 million domains worldwide.