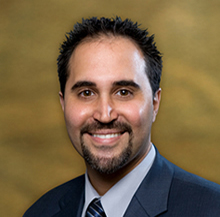 Downey, CA (PRWEB) May 01, 2014
Dr. Richy Agajanian, the founder of The Oncology Institute of Hope and Innovation, was named second author of a study entitled, 'Evaluation of the efficacy, safety, and biomarkers of pomalidomide and low dose dexamethasome in patients with relapsed/refractory multiple myeloma.' This study will be presented at the 2014 Annual Meeting of the American Society of Clinical Oncology (ASCO). Multiple myeloma is a rare and incurable progressive neoplastic disease that accounts for 10% of all hematological malignancies. Despite advances in treatment options for these patients, multiple myeloma remains incurable using conventional therapies. Thus, there remains a need for more effective therapeutic options for these patients. Pomalidomide is a novel immunomodulatory drug under development for the treatment of multiple myeloma. Data will be presented from an enrollment of about 85 patients from multiple sites including the Innovative Clinical Research Institute in Whittier, California. The ASCO Annual Meeting will be held on May 30-June 3, 2014 in Chicago, Illinois.
About The Oncology Institute:
The Oncology Institute of Hope and Innovation is committed to providing superior, compassionate and state-of-the-art medical care. Offering programs to help patients and families cope with the challenges that are brought on by cancer and strive to optimize their quality of life, comprehensive and realistic treatment goals are tailored to every person's unique needs and decided upon in partnership with the patients and their families. Dedicated to excel in cancer prevention, diagnosis and education through our exceptional team of physicians, nurse practitioners, nurses, medical assistants and office staff, The Oncology Institute of Hope and Innovation has 11 Southern California locations in the cities of Anaheim, Covina, Downey, Glendale, Long Beach, Los Angeles, Lynwood, Montebello, Torrance, Santa Ana, and Whittier. For more information, please visit http://www.theoncologyinstitute.com.