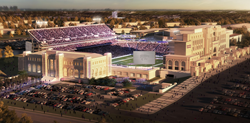 "It is imperative that we build upon the tradition and success of our program under Coach Snyder's leadership and the passion of our fan base," said Athletics Director John Currie.
Minneapolis, MN (PRWEB) April 29, 2014
Mortenson Construction, a leading builder of sports facilities in the U.S., and joint-venture partner GE Johnson Construction, a full-service construction company headquartered in Colorado Springs, Colo., have been selected to continue their work on the Kansas State University campus in Manhattan, Kan. Details of the new privately-funded Vanier Football Complex and North Stadium project were unveiled in a press conference during the Wildcats' spring football game on Saturday, April 26.
"With more than $125 million of facility improvements completed in the last 24 months and the excitement of our fans, evidenced by the current string of 13 consecutive football sellouts, it is imperative that we build upon the tradition and success of our program under Coach Snyder's leadership and the passion of our fan base, said Athletics Director John Currie. The grass-roots support of our fans, coupled with philanthropic leadership, will allow us to privately fund this phase of our master plan and significantly enhance not only the world-class experience of our student-athletes and the national visibility of Kansas State University, the city of Manhattan and the state of Kansas, but also the terrific fans that will help make this a reality. This new facility and seating enhancements will show that we are fully committed to maintaining, as well as furthering, our position as a leader at the highest level of intercollegiate athletics."
Phase Three of the Bill Snyder Family Stadium Master Plan, at an estimated cost of $65 million, will feature a new Vanier Football Complex structure that is considered pivotal in maintaining and securing K-State's competitive future and enhancing the overall experience of K-State student-athletes. It will also include significant improvements to Wildcat operations including a new locker room, weight room, video room, and a new academic center for student-athletes. Fans can look forward to better seating behind the north end zone, new restrooms, and a wider concourse.
"The Mortenson and GE Johnson team is looking forward to continuing our partnership with K-State Athletics," said Derek Cunz, vice president at Mortenson Construction. "The success we had on the West Side Stadium Expansion was the result of a strong collaborative effort and the expertise and dedication of the team – we're bringing the same team back to deliver the ultimate BIG 12 game day experience."
Phase II of the Bill Snyder Family Stadium Master Plan on the Kansas State University campus was completed on time and on budget on August 21, 2013. The renovated stadium enhanced the game-day experience for Kansas State Fans through a series of improvements and serves as the northwest gateway to campus and a rallying point for the University's visionary "K-State 2025" plan.
"It's extremely exciting to be bringing back the team members who produced such great results on the West Stadium Center. This joint venture brings a tremendous amount of momentum to serving K-State Athletics and the entire KSU community, said Jim Johnson, president at GE Johnson Construction. "We feel like our involvement in the new Vanier Football Complex and North Stadium project is a testament to our past performance, and we can't wait to get to work."
About Mortenson Construction
Founded in 1954, Mortenson Construction is a U.S.-based, family-owned construction company. As one of the nation's top builders, Mortenson provides a complete range of services, including planning, program management, preconstruction, general contracting, construction management, design-build, and turn-key development.
Mortenson is currently ranked as the second largest sports builder by Engineering News-Record, and has built many of the leading sports facilities around the U.S., including Target Field, Minneapolis; Xcel Energy Center, St. Paul; Target Center, Minneapolis; TCF Bank Stadium, Minneapolis; KFC Yum! Center, Louisville; Kinnick Stadium, Iowa City; FedExForum, Memphis; Coors Field, Denver; Pepsi Center, Denver; Sprint Center, Kansas City; ShoWare Center, Kent, Wash.; Edward Jones Dome, St. Louis; Camelback Ranch Spring Training Facility, Glendale, Ariz.; Amsoil Arena, Duluth; and Salt River Fields at Talking Stick, Scottsdale, Ariz.
Mortenson has offices in Chicago, Denver, Milwaukee, Minneapolis, Phoenix, Portland, San Antonio and Seattle with operations in Canada. For more information, visit mortenson.com.
About GE Johnson Construction
GE Johnson was founded in 1967 with a vision of building client relationships through innovative project services and by delivering on our commitments. Today, GE Johnson is an employee-owned corporation with a resume of projects ranging from $10,000 to over $300 million.
GE Johnson is one of the largest construction management and design integration firms in the Rocky Mountain and Midwest regions. They have provided preconstruction, building information modeling and construction management services on the K-State Alumni Center, KSU Foundation Headquarters, the original Dev Nelson Press Box, and the Indoor Football Practice Facility.
The company is headquartered in Colorado Springs, and maintains fully staffed offices in Denver, Vail, Jackson, Wyoming, and Oklahoma City. For more information, visit gejohnson.com.