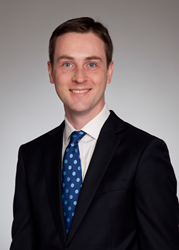 Chicago, IL (PRWEB) May 05, 2014
Global commercial real estate services firm Studley, Inc. recently hired Associate Director, Adam Southard, to grow the company's already solid client base in Chicago, IL and the Midwest.
Adam Southard, with seven years of banking and financial services experience, offers expertise in corporate finance, accounting, public company reporting and CRE financing. Through this experience, he brings insight on financial structuring and analysis to the Studley team and clients. Prior to joining Studley, Southard worked in the Investment Banking Division at Bank of America Merrill Lynch covering financial institution clients. He is a member of the Associates Board of Neumann Family Services – an organization dedicated to improving the lives of people with developmental disabilities and mental illness. As part of his advocacy for people with disabilities, Southard cycled from San Francisco to Washington, DC to volunteer as well as raise money and awareness with Push America.
Southard will support Executive Vice President, Greg Gerber's client team, which advises institutional, corporate and not-for-profit clients in Chicago and the Midwest to reduce the cost and improve the efficiency of their work space. Gerber and team specialize in strategic real estate planning and implementation serving a blue chip roster of clients, including some of the largest employers in the Midwest.
About Studley
Studley is the leading global commercial real estate services firm specializing in tenant representation. Founded in 1954, Studley pioneered the conflict-free business model of representing tenants in their commercial real estate transactions. Studley offers expert advisory services, including brokerage, project management, corporate services and strategic portfolio solutions. Studley's unique approach examines every client's business to fully understand corporate objectives and optimize real estate assets. For more information, please visit http://www.studley.com and follow us on Twitter @StudleyInc and LinkedIn.
###