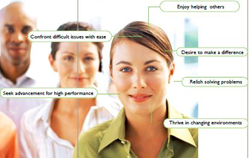 I look forward to continued experiences coaching clients, meeting new people, and exploring the world.
Dallas, Texas (PRWEB) May 09, 2014
DeWolff, Boberg & Associates (DB&A) is seeking applicants to fill several key management consulting openings.
"As other United States companies shift gears into growth mode, so too does DB&A," said Jonathan Compton, Director of Special Projects. "DB&A continues to expand our client base within the United States and internationally. As DB&A continues to improve the way we recruit, train and manage people, we are pleased to have the opportunity to add a new generation of consultants to the DB&A family."
DB&A is searching for experienced managers to build on its highly successful consulting heritage.When speaking with consulting candidates they often ask DB&A recruiters, "Why me? What was it about my profile that got your attention?" They may have always wanted to transition into consulting, but didn't think they had the appropriate background.
The answer is simple. While other consulting firms are looking solely for academic candidates with the right educational background, DB&A is searching for real problem solvers who also have an empathy for the frontline manager position because they have "walked a mile in their shoes" as previous managers themselves.
When asked about the pros of the position, first year management consultant Chanda Foucher said, "Professionally, I have enjoyed learning from the talented individuals from varied backgrounds who have taught me much more than I would have expected in such a short period of time. In addition, we get exposure to multiple industries and work centers and consistently coach our clients to find and implement opportunities for improvement." Foucher continues, "Personally, I've enjoyed the opportunity to explore different cities in a way that wouldn't be possible with a typical '9-5' job. Best of all, I'm currently working on a project in The Netherlands which is developing my experience in global business. 100% travel was advertised as a potential 'con' of the industry, but it has turned out to be the best benefit for me!"
The con for Foucher was, however, what she called "the unknown". "On my first project, I didn't know who I'd be working with, the name of the company, or the industry," stated Foucher. "Now that I've seen the full process, I have much less anxiety about what the future will hold and I look forward to continued experiences coaching clients, meeting new people, and exploring the world."
Apply now to begin a rewarding career as a DB&A management consultant.
# # #
About DeWolff, Boberg & Associates (DB&A)
DeWolff, Boberg & Associates (DB&A), founded in 1987 by Lou DeWolff and Tim Boberg, is a global management consulting firm specializing in helping companies of every description achieve objectives through improved performance and resource utilization. Working with every level of management, DB&A focuses on organizational and cultural issues, with a special emphasis on developing accountability and leadership at the employee and front-line supervisory levels. Celebrating its 27th year in business, DB&A provides consulting services to a variety of clients worldwide.