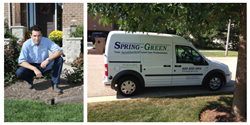 Plainfield, Illinois (PRWEB) April 30, 2014
Spring-Green Lawn Care is now providing an even more comprehensive service offering to its customers with their newly developed irrigation maintenance program. The three-step program offers customers spring start-up services, mid-season system performance evaluations and fall winterization services. Irrigation maintenance is currently available in many western and southwest suburbs including Aurora, Bolingbrook, Clarendon Hills, Countryside, Darien, Downers Grove, Frankfort, Glen Ellyn, Hinsdale, Homer Glen, Joliet, Lemont, Lisle, Lockport, Mokena, Naperville, New Lenox, Oak Brook, Orland Hills, Orland Park, Oswego, Palos Heights, Palos Park, Plainfield, Romeoville, Shorewood, Tinley Park, Western Springs, Westmont, Wheaton, Willow Springs, Willowbrook, and Woodridge. Spring-Green plans to extend the service area throughout the Chicagoland area in the near future.
Having an irrigation system is a great way to increase the likelihood of maintaining an appealing lawn. "By expanding our service offering to Chicagoland customers, we are also making watering the lawn and landscape throughout the year an easier task," said James Young, Spring-Green Lawn Care's President.
From the Spring Start-Up to the System Performance Evaluation to the end of the year Winterization, Spring-Green's trained technicians will inspect, repair and help maintain irrigation systems so they run efficiently throughout the year.
In the spring, the Spring-Green Start-Up process includes ten vital steps that ensures proper operation of the irrigation system. This includes everything from ensuring the main water supply is on to priming the mainline.
As the season changes from a mild and wet spring to a hot and dry summer, irrigation systems require fine tuning to maintain peak operating performance. A mid-season system performance evaluation includes resetting the controller, checking for leaks, cleaning out overgrowth around sprinkler heads, ensuring rotors are turning properly, leveling sprinkler heads and diagnosing system repairs.
Proper winterization of the system is one of the most important factors in determining the lifespan of irrigation equipment. Spring-Green's winterization visit includes blowout of sprinkler heads, rotors, valves and lines before freezing temperatures set in. Having an irrigation system winterized by a Spring-Green professional is the best protection against freeze damage. These services provided by Spring-Green are guaranteed to keep its customers' lawns green and keep their mind at ease!
###
About Spring-Green Lawn Care
Founded in 1977, Plainfield, Illinois-based Spring-Green Lawn Care has been delivering lawn and tree care services nationwide for over 37 years. Its service is centered on the beautification of residential and commercial customers in middle-class and affluent neighborhoods and communities. Spring-Green is an attractive opportunity for entrepreneurs and existing green industry business owners who want to align themselves with a franchise opportunity that has proven economic resilience, healthy profit margins, industry leading business and marketing intelligence, recurring revenue and retirement & family planning through business ownership. Spring-Green currently has 127 franchises operating in 25 states. Spring-Green Lawn Care franchise owners gave the franchise opportunity a 96 percent overall quality rating, according to the Franchise Research Institute September 2013 survey. For more information, visit http://www.springgreenfranchise.com or http://www.spring-greenfranchiseblog.com.