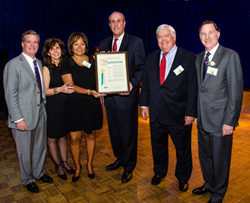 New Rochelle, NY (PRWEB) April 30, 2014
Family Services of Westchester (FSW) – one of the region's oldest and most influential nonprofits – celebrated six decades of service this past Thursday, April 24 at its Diamond Anniversary Gala at the VIP County Club in New Rochelle. The culminating anniversary event, which drew a crowd of more than 200 FSW supporters, friends, philanthropists, and local dignitaries, honored former board chairs and CEOs for their tireless efforts and enthusiasm.
The event showcased key FSW initiatives and celebrated the anniversaries of several successful FSW programs. This year marks the 55th anniversary of the Home Health initiative, which provides in-home health aides to those in need; the 35th anniversary of the Adoption & Children's Services initiative, which connects children with loving homes; the 20th anniversary of Camp Viva, which creates a safe, inclusive summer camp experience for children and adults affected by HIV; and more. FSW also serves as the umbrella organization for nearly 50 influential nonprofit programs like Big Brothers Big Sisters and My Second Home.
The gala was emceed by 20-year FSW advocate and volunteer Elaina Mango, director of Northeast marketing and sales at Verizon, and graced by honorary guest, Jennifer Czarniecki, who was recently crowned "Mrs. Westchester." Czarniecki, a Northern Westchester resident and mother of twins, has been using her platform as "Mrs. Westchester" to call attention to issues facing the county such as mental illness and drug abuse.
Opening remarks from Susan Wayne, LCSW-R, president and CEO of FSW, graciously thanked volunteers, staff and donors for their outstanding contributions throughout the years. Wayne poignantly remembered Patricia Lanza, a longtime Westchester philanthropist who most recently provided a $1 million challenge grant to support the Lanza Family Center for All Ages. FSW closed on the new property in White Plains in March, just three days prior to her passing at the age of 80.
Honorary chair Penny Johnston Foote, daughter of FSW co-founder Marjorie Dammann, and Kimberly Stein, granddaughter of FSW co-founder Irwin Stein, also spoke about their deep-rooted ties to FSW and their admiration for the organization. "My mother would be extremely proud of what Family Services of Westchester has become," said Foote.
Awards were then presented to former board chairs, spanning decades of service, by Susan Wayne and Edward Foley, current FSW board chairman. The honorees were thanked for volunteering their time and talent to creating a safer, healthier Westchester.
"Our Diamond Anniversary Gala was a splendid event that affirms time and time ahead that FSW's mission to promote well-being and self-sufficiency in Westchester is a cause people stand behind," said Wayne. "We look forward to expanding our programs and serving the community for decades to come."