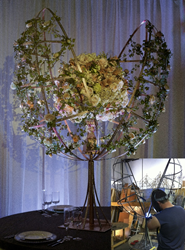 Imagine the perfect event and Kristina Valdmaa Designs will make it a reality.
Eatontown, NJ (PRWEB) May 01, 2014
Kristina Valdmaa Designs (KVD) has undergone a complete transformation of its website, giving readers a direct line to a top industry professional.
The bright and colorful photos on the home page introduce imagination, sophistication, and the style of Kristina Valdmaa Designs. KVD is a progressive design studio founded upon the valued traditions of quality craftsmanship and uninhibited creativity. Founder, Kristina Valdmaa is known for her ingenious use of high quality materials and innovative concepts, crafted with skill, and precision.
The Design Services Tab explains that Kristina is a masterful artist, well versed in event design and home decor. With influences in art, history, and nature Kristina is able to gracefully reimagine traditional style with a modern flair for any occasion. From a small intimate corporate affair to a large elaborate wedding, there are no boundaries or limitations to creating timeless beautiful artwork. Her precision and attention to detail are showcased within her wonderful floral masterpieces, elegant structures and stylish event décor.
The portfolio tab offers an insider's perspective into Kristina Valdmaa Designs' artwork and fabrications. From a 4' butterfly sculpture for the escort card table decor to eight 20' orchid trees, KVD is capable of building the impossible. Imagine the perfect event and Kristina Valdmaa Designs will make it a reality.
Witness the creation of Kristina's artwork through her blog, newsletter and social media outlets. Familiarize yourself with the trends and designs that inspire Kristina and be a virtual part of her team. With the new website transformation, viewers are able to get a closer look into the heart and soul of famed event designer, Kristina Valdmaa.
Kristina Valdmaa Designs: Kristina along with husband Michael, have been creating lasting memories for clients for over 17 years. Located on the Jersey Shore and in the heart of the Manhattan floral district, Kristina Valdmaa Designs has an elaborate studio and fabrication shop. Serving New York, New Jersey, Connecticut, and destination events, KVD has accommodated an array of venues from bat/bar mitzvahs, weddings, corporate events, and charity balls. Kristina Valdmaa Designs is known for amazing floral designs, table decor, custom art installations, event decor, furniture rentals, and design lighting. Kristina and her company believe that good design is honest, original, captivating; it is not about trends or rules but about creating timeless beauty. To connect with Kristina, please contact her at http://www.kristinavaldmaa.com or call 855-321-0733.