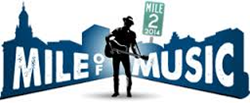 We have a pretty cool vibe going here in Appleton and the fact that over 400 new artists applied to perform through our self-submittal process really speaks to that.
Appleton, WI (PRWEB) April 30, 2014
After a wildly successful debut last summer, the Mile of Music festival will double in size and scope this August as it returns to Northeast Wisconsin for its second year.
The four-day event dubbed as "Mile 2" is expanding from 100 artists to upwards of 215. It will highlight local and national singer-songwriters, duos and full bands on August 7-10 with everything from showcases to workshops that feature original, Americana music. More than 600 live performances are expected – up from 182 last year – at over 60 venues across the mile-long stretch of Downtown Appleton and the Riverfront.
Many of the live performances will be offered free to the public. A limited number of VIP Priority Access Passes are also available and now on sale through the festival website.
In revealing an initial sampling of performers from the "First Fifty" list last week with a full roster of headliners and artists to come in May, Mile of Music co-founder and Fox Valley native Cory Chisel announced that he will return as event curator and performer.
New artists to appear include The Baseball Project with members of R.E.M. and The Autumn Defense featuring members of Wilco. Several performers from 2013 will be back, including crowd favorites Swear and Shake of Brooklyn, Minneapolis-based Caroline Smith and folk icon, Charlie Parr.
Dave Willems, event co-founder and CEO and principal of Willems Marketing, explained that many artists who appeared at last year's festival were anxious to return. "As soon as Mile of Music ended last summer, our phones were buzzing with artists asking to come back and do it all again," Willems said. "We have a pretty cool vibe going here in Appleton and the fact that over 400 new artists applied to perform through our self-submittal process really speaks to that."
In addition to the sizable list of returning artists that will be announced in coming weeks, Mile 2 will again feature the Mile of Music Bus with surprise performers boarding throughout the weekend and hanging out with fans. Unscheduled Performance Pop-Ups will be back as a mainstay at various Downtown Appleton locations, and The Music Immersion Team is planning nearly double the amount of interactive activities, including world percussion and instrument workshops.
New to Mile 2 is a bonus Kick-Off Concert on Wednesday, August 6, with artist details to be announced as the event nears. "We are really excited about the way everything is coming together for Mile 2," Willems said. "It's going to be a fun mix of our best ideas from Year One and plenty of new twists and surprises."
As the community festival grows, event profits will go toward two evolving funds. They will be given to the Mile of Music Education Fund to create more music opportunities with Appleton's public schools, and a separate fund to develop more creative activities within the Downtown district.
Exceeding all initial expectations in its inaugural year, Mile of Music welcomed an estimated 15,000 fans. Organizers are projecting between 30,000 and 50,000 attendees this summer.
The Mile of Music is an artisan festival that kicked off in August 2013 and featured over 100 singer-songwriters and bands performing live in Downtown Appleton, Wis. It is a collaborative event that was co-founded by Nashville-based national recording artist Cory Chisel and organized among several organizations and individuals throughout the Appleton area community. For volunteer, sponsor, ticket or other event information about Mile 2 in 2014, visit http://www.mileofmusic.com.