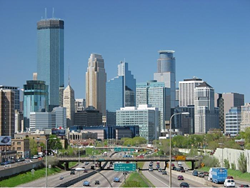 It's great to help provide solutions to their time management challenges. - Tony Galstyan
Minneapolis, MN (PRWEB) April 30, 2014
The annual, world-renowned event of payroll genius, known as the American Payroll Association's Congress, will be leaving its 32nd mark of brilliance on over 2,500 attendees this May at the Minneapolis Convention Center. Boasting an impressive offering of over 200 workshops spanning a 4 ½ day period, Congress will provide learning, strategy, re-certification, and networking opportunities all rolled into one. AMG Time, a leading national supplier of time attendance software, products, and services, will proudly attend, showcasing their high-quality time attendance products and providing pertinent educational information to perspective clients, customers, and partners in the payroll industry.
With over 100 exhibitors in attendance, President Tony Galstyan and Talia Weldon will represent AMG Time at the Congress Expo, the largest payroll and finance exhibition in the country, sharing their automated time attendance business processes and product expertise. Galstyan is excited about the opportunities this momentous event offers and shares, "The show will be an excellent opportunity to interact with potential clients and partners. It's great to help provide solutions to their time management challenges."
Based in Los Angeles, California, AMG Time functionally provides all size employers with employee time attendance products, from badge readers to biometrics, that efficiently cut time inaccuracies while boosting payroll accuracy. AMG Time's knowledge and innovation in the area of time management products will provide custom tailored systems for Congress attendees, ranging from human resource managers to accountants to CPAs and other influential partners throughout the payroll industry. Filling a much needed void in the world of finance and payroll, AMG Time offers unique and highly-accurate products that ensure efficiency and customer satisfaction.
Congress, hosted by the American Payroll Association, is sure to be the largest, finest, and most elite gathering of payroll, finance, and accounts payable industry leaders this year. AMG Time is certainly one to watch as it continues to broaden its position within the industry, share its expertise, and design more innovative time and attendance systems in Los Angeles to expand its national presence.
About AMG Time
With over 20 years of industry experience, AMG Time is a national leader in time attendance products, software, and services. This innovative Los Angeles company has a passion for providing employers with time attendance systems that boost the accuracy of time and payroll records. Built upon a commitment to customize, AMG Time will design the time employee management system that is perfect for any size business.
For more information about AMG Time, please visit: http://www.amgtime.com.