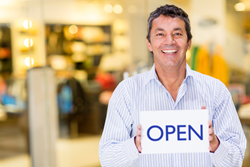 Philadelphia, PA (PRWEB) April 30, 2014
Online Solutions
Website Health Check
When was the last time you updated the design or format of your website? If it's been few years, it may be time for a much needed upgrade. As technology evolves, so do your consumers' expectations. New development in software will also make it easier for you or your web team to make changes and add content to your site. However, we recommend not to try the free website software in the marketplace. We've heard too many regrets after the fact; so save the time and frustration and have a qualified team build your site. Plus, most new websites are responsive, meaning they're ready for your mobile viewers, too.
Content and Optimization
If it's been a while since you've done an online search for your small business, you should probably do so to check to see if you are still in the top rankings. Each of the major search engines are constantly changing their algorithms and it might be time to update your search engine keywords.
However, one of the biggest challenges traditional SEO companies face is the higher importance placed on quality, engaging content, and not the back-end tricks to get you to the top of the search engines.
Feed your consumer. Give them information they want. Be the resource to their needs. Use a Content Marketing Provider to balance the content and optimization worlds and grow your business. Consistent content will keep everything fresh and your customers coming back for more.
Social Media Engagement
Do you have a Facebook company page or Twitter feed that doesn't get much use? If so, time to reach out and engage with your consumers directly. Getting involved with Social Media platforms gains you instant access to feedback and can make brand ambassadors out of your fans in no time. In addition to Facebook and Twitter, there are other social media outlets like Pinterest, Instagram, Google+, or Tumblr that can provide you with the niche environment of your business.
Offline Solutions
Local Media
If you're looking to grow your business, sometimes you don't have to look much further than your front door. An easy and cost effective marketing solution is to advertise with your local newspaper or radio station. If you've got business cards and brochures, make sure to take them around to the local businesses and networking events. Word of mouth is still a powerful marketing tool. Build strong relationships and you'll experience positive referrals.
Chambers, Groups, Networking Events
Every small business looking for growth opportunities should be listed with their town or city's Chamber of Commerce or other business networking group. Current and new residents or businesses will be able to find you and your company. Plus, they have events throughout the year that make it a great way for you to plan "face-to-face" networking with new prospects. Schedule at least once a quarter, if possible, once per month, to go out and meet new people. Bring a handful of business cards and open up new possibilities.
Get Involved With Your Community
Look to sponsor community events or organizations. You'll get your name on fliers, t-shirts and banners all promoting your name and helping you to grow your business.
We suggest choosing a few causes that are close to your heart, so that you can get a great personal experience out of it as well. At Beholder, children, youth and family causes are very important to us.
Here's an example of what we sponsor throughout the year:

Mentor and Advisory Member at a Philadelphia High School
Support local elementary school basketball and soccer teams
Host Elementary school art contests
Support church youth group events – food, clothing, and toy drives, etc.
Speaking Engagements
What are 3 topics you can easily speak on? Are you an expert in flower arranging, finance, technology? How about a restaurant owner? Contact your local colleges or chambers and schedule workshops, guest speaker or lecture series, or a demonstration. Become a mentor to local students or new business owners, and let the community see the breadth of your knowledge and how great of a resource you really can be to them!
Implementing any one of these simple marketing opportunities will instantly dust off the cobwebs and you'll be growing your business in no time. Please contact us for more info on how we can help.
About Us: Beholder is a content marketing company that specializes in content marketing services, film and video production, creative services, web and social media marketing. We help businesses reach their marketing goals within their budget, improve their online presence with branded content, and increase traffic, sales, and leads.