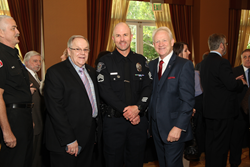 ...after co-founding and serving as the first president of Glendale CRIMESTOPPERS almost 20 years ago, I am once again serving as President of this program which is now part of the county-wide CRIMESTOPPERS network.
Glendale, CA (PRWEB) April 30, 2014
Rick Barnes, founder and current President of the volunteer organization, Crime Stoppers, is proud that the non-profit program can help encourage the Glendale community to speak up and put a stop to a series of dangerous fires that have been started throughout Glendale.
Rick founded Crime Stoppers in 1994, which raised money to create a tip hotline where people can call in important crime-related information, anonymously, and receive a reward for their efforts to keep Glendale safe.
In recent news, Glendale Crime Stoppers funded a $1,000 reward that police are offering for information leading to the arrest of the person or persons responsible for starting the Glendale fires. Officials have counted 17 fires since January in a south Glendale community. For more information about the fires, use the following link: http://www.nbclosangeles.com/news/local/Arsonist-on-the-Loose-in-SoCal-256208481.html
Anyone with any information regarding these fires is encouraged to call the Glendale Police Department at (818) 548-4015 or call Detective Travis Goodreau at (818) 548-3127.
Support Crime Stoppers, Support Public Safety
Glendale Crime Stoppers provides a beneficial service to the community. Tax-deductible donations to Crime Stoppers are always welcome. Checks may be made payable to "Glendale Crime Stoppers" and mailed to 300 West Glenoaks Blvd. Suite 104, Glendale 91202.
Committed to Public Safety
Rick Barnes is very concerned with public safety, but his contributions to making Glendale as safe a city as possible is not limited to Glendale Crime Stoppers. Rick is seeking a seat on Glendale City Council so that he may be in a position to influence public policy and have even more impact on public safety. For more information about Rick Barnes and his campaign for City Council, visit his website at http://www.rickbarnesforcitycouncil.com/.