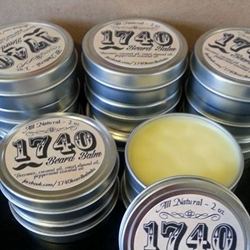 I use 1740 Handmade daily. Its amazing minty or coffee scents along with the quality of the ingredients, keeps me wanting more.
Los Angeles, CA (PRWEB) April 30, 2014
1740 Handmade, the maker of all-natural beard balm and mustache wax products has just unveiled their new website. The site is a full e-commerce portal that allows visitors to learn about the 1740 Handmade products and purchase them directly from the site. The owners of 1740 Handmade are excited about the new site and during the unveiling said, "This new site represents our company and our products in the best way possible and we are confident that our customers will come back over and over for their beard and mustache needs."
Visitors to the new website will find both an informative site and one that is an easy-to-use and effective ecommerce portal. The home page features product information on the three main product lines. The company sells Beard Balm that men use to soften and condition their beards. The 1740 Handmade Beard Balm is handmade in Missouri and features a peppermint scent. The company also sells Mustache Wax that is made with Beeswax, Coconut oil, Sweet almond oil, and Peppermint essential oil. Finally, the company sells Wooden Combs that can be used on both beards and mustaches and that prevent hair from drying out by evenly distributing oils throughout the hair. All of these products are prominently featured on the home page and when customers are ready to make a purchase they can easily navigate to the company store and make a purchase.
The website features several helpful links including a "How To" page that teaches men with beards and mustaches how to throw away their traditional shaving creams and razors and use the 1740 Handmade products. The site also features a "Beard Blog" where visitors can find articles and helpful information about the proper care for their facial hair.
1740 Handmade is a company that is riding the modern trend of men growing facial hair. The owners of the company realized there were no products for these men to use to care for and maintain their beards and mustaches, so 1740 Handmade was born. The new website is a way to introduce bearded men to these products.
One satisfied customer wrote "I use 1740 Handmade daily. Its amazing minty or coffee scents along with the quality of the ingredients, keeps me wanting more. Also their quality handmade combs are of quality wood and feels great, no snags. 1740 Handmade is for real! - Cory"
To learn more about 1740 Handmade visit the new website at http://www.1740beardbalm.com/ or call 816.550.5973 to speak with a company representative. 1740 Handmade also has a presence on Facebook, Twitter and LinkedIn.