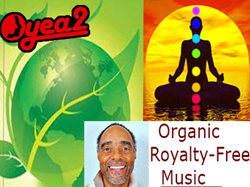 ...Lack of visibility and context creates a multi-channel customer experience gap...Geoff Galat, VP of Worldwide Marketing atTeaLeaf.
Charlotte, NC (PRWEB) April 30, 2014
OYea Music (BMI) bolsters its net-based audio media distribution with the official launch of OyeaMusic on the Pond 5 stock media platform. In the spirit of the multi-channel model of product visibility, touted by Jay Abraham, Mary Ellen Tribby (among many others), the new era of internet advertising demands nothing less. It is standard operating procedure and this Carolina-based information product company is finding its way into the mainstream.
The Warren Buffet paradigm for success would have us seeking the road less traveled. Make no mistake, there is always value in seeking an against-the-grain opportunity as the cycle of business runs its course. Mike Koenig's bestseller, You Everywhere Now, rules the roost of the present-day mindset regarding entrepreneurial innovation. The Pond 5 deal is simply one facet of a multiple approach strategy. Multi-channel pursuits will help identify the optimum access to the coveted target audience. "Pricing flexibility and the wide array of native offerings will provide a robust market testing environment. The perfect customer is a data mining endeavor in this day and age." –Gerald Woodson, OYea 2's Director of Business Development.
The most nimble small businesses are the most successful. An ever-opportune Pursuit of Health, Wealth, and Happiness, and the growth of OYea 2 Enterprises, LLC are parallel goals. The quest continues. Drop in and have a look around. More valuable info can be found at http://oyea2.org .
About OYEA 2 Enterprises, LLC:
The mission of Oyea 2 Enterprises, LLC is to provide quality information on the pursuit of health, wealth, and happiness for raising self-awareness worldwide.
The vision is to express the mission through the distribution of information products (literature, music, and video) and related services. Oyea 2 Enterprises, LLC began its service to the Charlotte, NC community in 1984 as Oyea Music (BMI), a recording studio for solo musicians. Through the years, the mission has mushroomed to include composition, audio post–production, and video production. Since 1995, Woodson has engaged in self-disciplinary sutdy of customer service and technical support. In the growing internet marketing space, transformations continue and the demands for ongoing education push the envelope more each year. For the last 21 months, Oyea Music has been focused on expanding its marketing efforts online. Consolidating its music, video, research, and writing expertise into one business entity, Oyea 2 Enterprises, LLC is the unified product engine.