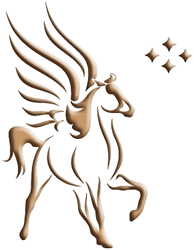 We guard jealously our creative and original work product, and will defend vigorously our right to take sole credit for our work. Those who infringe on our copyrighted assets will be met the most the most furious remedies available to us
Chicago, IL (PRWEB) May 01, 2014
Pegasus Intellectual Capital Solutions announced today that they had released all claims against Hardesty Hackett & Partners in a copyright infringement settlement regarding the content of their website http://www.pegasusics.com. PegasusICS had earlier issued a cease and desist order against Hardesty Hackett & Partners and undisclosed third parties. PegasusICS continues to examine possible remedies against these third parties and, among other actions, has filed complaints under the Digital Millennium Copyright Act.
Charles Smith, founder of Pegasus Intellectual Capital Solutions stated: "The value we bring to our clients is derived from our creativity, talent, and diligent work ethic. These are indeed our intellectual capital – the intangible assets of our firm - and our middle name. We guard jealously our creative and original work product, and will defend vigorously our right to take sole credit for our work. Those who infringe on our copyrighted assets will be met with the most furious remedies available to us."
About Pegasus Intellectual Capital Solutions
PegasusICS is a Chicago based investment bank that advises and assists companies on capital raising, mergers and acquisitions – including cross-border – exit planning, restructuring and workout, and shareholder value maximization. PegasusICS operates across North America as well as internationally. PegasusICS was founded by Charles Smith who has consummated over two billion dollars in transactions with a client base ranging from Cargill to Target.
PegasusICS is a leader in Agriculture, Agribusiness, Food and Beverage, Healthcare, IT, Manufacturing, Distribution, Technology and Extractive Energy investment banking services.
In the past two years, Pegasus Intellectual Capital Solutions has been named '2014 Capital Raising Investment Bank of the Year – USA' by Acquisition International, 'Agribusiness Sector M&A Advisory Firm of the Year - USA' by Corporate Intl Magazine, '2013 Investment Banking Boutique of the Year' by Acquisition Finance Magazine, 'Investment Banking Boutique of the Year 2013 – USA' by Intercontinental Finance Magazine, and selected for the distinction of 'Top 200 Investment Banks and Boutiques' by American Registry.
Media Contacts:
Charles Smith
Managing Partner
Pegasus Intellectual Capital Solutions LLC
70 West Madison Street
Suite 1400
Chicago, IL 60602-4270
o : 312-951-0100 x11
csmith(at)PegasusICS(dot)com