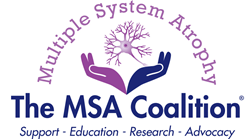 one of the monster brain diseases
Sarasota, Florida (PRWEB) April 30, 2014
Sarasota resident Alix Sun recently received a call from the Neuro Film Festival that she had been anticipating for several weeks. The call officially confirmed that her entered video "My Hero - an MSA Angel Story" had won the public vote for fan favorite via the Neuro Film Festival YouTube channel. The video depicts her mother Valerie Stephanski's struggle with the rare neurological disorder Multiple System Atrophy (MSA).
Alix Sun's own voice narrates and describes MSA as "one of the monster brain diseases". It lovingly captures tender family moments and glimpses of a life once filled with art and beauty, contrasting them with images of increased physical challenges, darkness, despair and poignant loss. She says: "My mother was a painter before being diagnosed. She lost muscle control completely and was no longer able to paint but she never let this disease hinder her spirit. She kept her sense of humor and never complained. She was my best friend and my hero." The haunting original music composed and performed by Alix adds impact to a story that can have no happy ending. Sadly, Alix's mother Valerie passed away from complications of MSA in July 2012.
"Stories like this one are the heartbreaking reality of Multiple System Atrophy", says Pam Bower, board member of the Multiple System Atrophy Coalition, a non-profit organization devoted to advocating for the disorder. "Currently there is no known treatment to arrest the relentless progression of MSA. We are grateful to film makers like Alix Sun who are willing to show the raw reality of this disorder and raise awareness of its existence. Only through increased awareness can we find the help so desperately needed for current sufferers."
"My Hero - an MSA Angel Story" was premiered at the Brain Health Fair during the American Academy of Neurology's Annual Meeting in Philadelphia.
Please watch the 2014 Neuro Film Festival's fan favorite video at this link:
http://www.youtube.com/watch?v=9b91nv9HGoM.
You can watch of all the 2014 Neuro Film Festival videos at this website: http://patients.aan.com/go/about/neurofilmfestival.
About Multiple System Atrophy
Multiple system atrophy (previously known as Shy-Drager Syndrome) is a rare and fatal disorder with less than 15,000 Americans diagnosed and 35,000 undiagnosed at any given time. According to the National Institutes of Health, "Multiple system atrophy is a progressive neurodegenerative disorder characterized by symptoms of autonomic nervous system failure such as fainting spells and bladder control problems (neurogenic orthostatic hypotension), combined with motor control symptoms such as tremor, rigidity, and loss of muscle coordination. MSA affects both men and women primarily in their 50s. MSA tends to advance rapidly over the course of nine to 10 years, with progressive loss of motor skills, eventual confinement to bed, and death. There is no remission from the disease. Currently no cure is available."
About The Multiple System Atrophy Coalition®
The Multiple System Atrophy Coalition is a positive beacon of hope standing up to a little known, rare, insidious disorder. Made up of dedicated volunteers, The MSA Coalition has a primary purpose of encouraging and funding research to find a cure. The Coalition also provides much needed patient and caregiver support, educational resources, and advocacy to create awareness and to fight for issues important to the MSA community. For more information or to donate to The Multiple System Atrophy Coalition, please visit: http://www.Multiple-System-Atrophy.org.