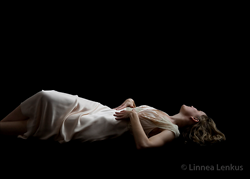 I have found that women are becoming comfortable with the way they look now more than ever and not just accepting of their bodies but embracing them
(PRWEB) April 30, 2014
Los Angeles boudoir portrait photographer, Linnea Lenkus, reports noticing an increase in demand for boudoir portraits. Lenkus welcomes this popular trend as boudoir photography is one of the areas she has specialized in for the last 25 years. "I have found that women are becoming comfortable with the way they look now more than ever and not just accepting of their bodies but embracing them," Lenkus explains.
Lenkus has spent most of her career setting herself apart from arched backs, trashy lingerie and bad lighting which are visuals typically associated with poor boudoir photography. Lenkus strives to create sophisticated portraits that can hang in art galleries, as many of her pieces have, not in adult magazine spreads.
The photographer confessed that she wasn't even interested in taking portraits unless she was able to master her lighting technique. "My intention with my portrait photography is to always create something unique and authentic and the key to that is incredible lighting. Really great lighting adds to that WOW factor." Lenkus confessed it took countless hours of tinkering and experimenting with her equipment in order to achieve what she is able to now. It is that WOW factor that does indeed separate Lenkus' artistic boudoir photography from the rest.
Posing is the other detail that grabs your attention when reviewing the portrait photographer's fine art boudoir portfolio. "I focus on elegant lines and curves to create tasteful photography of the body that celebrates the form," Lenkus explained. "That is really why women come to me, to celebrate their body and to preserve the memory of it so that when they are 90 they can look back at themselves and be reminded of that beauty."
Lenkus describes her portrait sessions for women as empowering and liberating which combined with the end result should be motivating enough for every woman to seek out Linnea Lenkus as their boudoir photographer. If you are interested in having your own fine art photography session with Linnea Lenkus please contact the portrait studios at https://F8082.campgn5.com/Boudoir-Photography-Los-Angeles.
About Linnea Lenkus
Linnea Lenkus specializes in Maternity, Children, Family and Celebrity photography as well as Fine Art Boudoir photography. Linnea is a highly experienced, internationally published, professional photographer with worldwide commercial success. In a photography session with Linnea, clients receive the benefit of her artistic eye and her technical mastery honed over decades of photography experience. She has a staff of specially trained photography experts who oversee every step of the process to ensure clients have a thoroughly enjoyable experience and receive stunning portraits of the highest quality. Studio locations are in Pasadena and Long Beach. Linnea also provides on location and underwater photography in both the Los Angeles and Orange County areas.