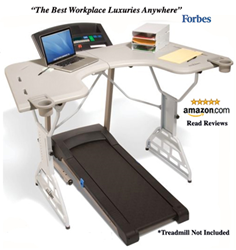 Complex analogy thinking scores were 50% higher for walkers compared to sitters.
Santa Clara, CA (PRWEB) May 01, 2014
The next time someone tells you to "take a hike" do it! That is if you want to boost your creativity levels by as much as 60%. The same advice might be given to recent naysayers claiming treadmill desks created a multi-tasking mind block. Recent research from Stanford University found significant gains in creative production simply by allowing test subjects to walk.
The study published in the Journal of Experimental Psychology: Learning, Memory and Cognition by Dr. Marily Oppezzo of Santa Clara University and Daniel Schwartz of Stanford (https://www.apa.org/pubs/journals/releases/xlm-a0036577.pdf) found that walking (whether indoors or out) significantly stimulated the creative abilities of individuals.
Compared to sitting study subjects, walking (non aerobically) on a treadmill and facing a blank wall actually doubled their creative responses. Study author Dr. Oppezzo admitted to a pre-study bias that "walking outside would blow everything out of the water, but walking on a treadmill in a small, boring room still had strong results, which surprised me."
The good news is the creativity continues to flow for a short period of time after the subjects completed their walks and sat down.
176 college students participated in the study along with completing tasks that are used widely to measure levels of creativity. The study controlled for variations in outside scenery by pushing participants in wheel chairs giving them the same controlled experience as the outside walkers in the groups. Outside walkers scored on average 60% higher on tests for divergent creative thinkers than their seated counterparts. The same held true for the treadmill walkers looking at a blank wall. Walking it seems is the vehicle to unlocking creativity not the change in scenery.
"Complex analogy thinking" scores were 50% higher for walkers compared to sitters.
Not all thinking is created equal however so the researchers also measured convergent thinking that requires single correct answers (e.g. the relationship between "sharp, swiss, and soldier" would be knife or a k-ration of cheese). Walking actually produced results slightly under the average for sitting subjects in this regard.
Conclusion? Creative divergent thinking appears to benefit greatly from keeping the body walking. Convergent thinking – not so much, but only marginally less.
"Physical and mental health is critically dependent upon keeping the body in motion as evidenced by thousands of peer reviewed studies," stated Steve Bordley, CEO of TrekDesk Treadmill Desks. "This is the first study to our knowledge that distinguishes between the types of thought and the positive effects of walking. This study represents another reminder that our office and educational environments need to be re-designed to allow for more daily movement."
Designed to fit any existing treadmill TrekDesk treadmill desk is an affordable, full sized, height adjustable workstation that allows individuals the opportunity to gain the necessary amount of daily exercise to lose weight, maintain health, reduce stress, prevent disease, strengthen muscles, boost mood and productivity, without requiring additional time during the day or extra motivation.
Join the TrekDesk "Movement Revolution" to learn more, spread the gospel regarding movement, or win a free TrekDesk http://www.facebook.com/trekdesk, or follow TrekDesk on twitter http://www.twitter.com/trekdesk. TrekDesk treadmill desk is currently available for sale online at http://www.trekdesk.com.