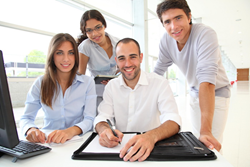 Burbank, CA (PRWEB) April 30, 2014
Business Insurance USA announces that it is now offering a variety of different insurance coverages specially designed for owners of advertising agencies.
Among the coverages now available are: General Liability, Business Owners and Professional Liability.
Advertising agency owners face a number of risks, including injuries at work and copyright, plagiarism and libel issues resulting from advertising campaigns, just to name a few.
According to Business Insurance USA should one of these risks actually become reality at an advertising agency it can prove financially catastrophic to the agency's owner and even result in loss of his or her own personal assets if the right insurance coverage is not in place.
"For example, if a client hurts himself while in an advertising agency's office that person can make a bodily injury claim," said Business Insurance USA. "If that happens, having extensive liability coverage could not only pay the medical bills that result from the situation but also pay for the cost of any legal defense that needs to be presented. The right coverage could even include payment of any damages that are mandated by the court."
In addition to liability insurance, advertising agency owners can also benefit from the following coverage, according to Business Insurance USA:

Professional liability – this coverage protects you against negligence claims filed by a client. Clients often file claims against ad agencies citing failure to perform, financial loss caused by service or an error or omission in service.
Business Owners Policy (BOP) – protects owners from disastrous and unexpected events that cause them to halt work and loss of income.
To learn more about Business Insurance USA and about the insurance coverage it is now offering owners of advertising agencies, please visit http://www.businessinsuranceusa.com.
About Business Insurance USA
Business Insurance USA is a leading provider of commercial business insurance. The company offers a full spectrum of insurance products and services that help small business owners meet their budget and protect their investments and assets from the startup phase through expansion and growth.