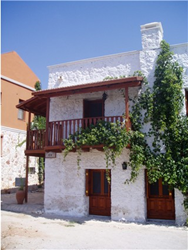 This gorgeous property boasts both looks and character.
(PRWEB UK) 2 May 2014
The former fishing town, located on the country's Mediterranean coast, boasts white-washed houses debedecked in bougainvilleas and almost year-round sunshine. Sitting between Dalaman and Antalya, it is an area which is sought-out by visitors from the UK in particular and enjoys a large ex-pat community.
Oceanwide Properties MD Suleyman Akbay said he was pleased with the additional enquiries he had received for investors looking to buy property in Kalkan over the months of March and April.
In addition, he was delighted, he added to be able to offer for sale by his property agents in Fethiye, one of the historic stone-walled properties so beloved of foreign visitors and traditionalists to the area.
The two bedroom cottage, named Ivy House is first-degree listed and believed to be around a century old. It sits in the heart of the town's historic fold just two minutes from the sea and is surrounded by a group of pretty converted traditional townhouses inhabited by both Turkish and English homeowners.
Mr Akbay said: "This gorgeous property has both looks and character. It's actually two buildings and was restored back in 2004 under the guidance of the Department of National Heritage.
"It's the type of Turkey property that foreign investors will fall for immediately, such is its charm. It's also the perfect accommodation for renting out as a holiday let as it really does have everything visitors to Turkey look for in an authentic character house."
One of the growing attractions to Kalkan meanwhile is the town's proximity to Kas which has recently boasted a new and exclusive 470-berth marina. As a result the area is increasingly growing in popularity with the jet-set crowd and is already well-known as the Turkish Riviera (or Turquoise Coast).
The UK owner of Ivy Cottage, who is selling due to family commitments back home in London, said that following the restoration the stone wall structure has been reinforced by an inner iron frame to add protection against earthquakes. Meanwhile the interior is highly modern and built using simple, natural materials.
As well as two bedrooms it also consists of two large bathrooms, sitting room and open plan kitchen. Both the staircase and flooring is made from stone which enables the Turkey property to remain cool in summer.
Externally the two level cottage – which has a footprint of 58 sq m per floor – boasts traditional wooden verandas and shutters. There is also a living grapevine growing over a wooden pergola on the full-size roof terrace which boasts stunning views to the ocean.
Oceanwide Properties is a popular estate agency based in both the resort of Fethiye in Turkey and in London. The agency concentrates on villa and apartment sales in Turkey's Mediterranean and Aegean coastal resorts. In addition, it features apartments in the increasingly cosmopolitan city of Istanbul.
More information on the multi-lingual Oceanwide Properties team can be found on their website or by contacting them direct.