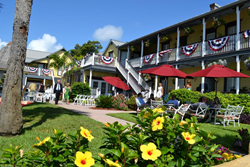 St. Augustine is a very walkable city. This special allows our guests to explore the city without even renting a car.
St Augustine FL (PRWEB) April 30, 2014
Visitors who fly into St. Augustine airport on Frontier Airlines will receive special treatment from the Bayfront Marin House, an award-winning waterfront bed and breakfast located in the historic district of St. Augustine.
"We're very excited that Frontier Airlines will be flying directly into St. Augustine starting May 2," says Mike Wieber, owner of the St. Augustine bed and breakfast. "We wanted to celebrate their arrival in our city with a special package for their customers."
Airline passengers who stay at the Bayfront Marin House for two nights at regular rates will receive complimentary round-trip transportation from the airport to the bed and breakfast, located in historic downtown St. Augustine. They will also receive complimentary three-day passes on the Old Town Trolley, as well as a free dessert at one of the inn's many restaurant partners.
"One of the many wonderful things about St. Augustine is that it's a very walkable city," says Wieber. "Our package allows people to visit without renting a car--so in addition to the complimentary items at our inn, they can also save the money they would normally spend on a rental car. We'll help them get from the airport to the inn, and the trolley tickets will help them travel throughout our city."
The offer must be mentioned when booking the room, and cannot be used in combination with any other specials or discounts.
Information about the Bayfront Marin House
The Bayfront Marin House in Saint Augustine, Florida is a 15-room, luxury bed and breakfast inn. Located on the Matanzas Bay, the bed and breakfast offers stunning views of the water, hot southern breakfasts each day, along with the highest levels of personalized customer service. Reservations can be made at 904.824.4301, or at bayfrontmarinhouse.com.