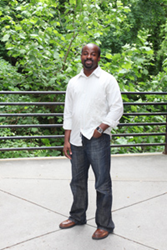 "Honored to be recognized as a finalist and appreciate the hard work of my team in helping us get here" Per Kuady
Baltimore MD (PRWEB) April 30, 2014
Kwame Kuadey founded Gift Card Rescue in 2008 as a company that sold unwanted gift cards in exchange for cash and the purchase of gift cards at a discount from over 450 merchants.
In an interview with the BBJ "Where did the idea come from? A friend of mine had a bunch of gift cards that he didn't know what to do with. At the time I was getting my MBA at the Johns Hopkins Carey Business School and I became intrigued by the idea. I could see it was a problem that a lot of people had and there was data to back it up, showing that about 10 percent of gift cards sold went unused".
The national awards program recognizes entrepreneurs who demonstrate excellence in innovation, financial performance and personal commitment to their business and community.
We wish Kwame Kuadey the best in winning this years award. below is a list of the other finalists.
Here are the Maryland finalists:
Rebecca Hoffberger, American Visionary Art Museum in Baltimore
Kevin Cashen, Bay Bank in Baltimore
J.M. Schapiro III, Continental Realty Corp. in Baltimore
Vlad Friedman, Edgewebhosting Inc. in Baltimore
David Block, Gliknik, Inc. in Baltimore
Charles Werhane, Enterprise Community Investment in Baltimore
Ethan Giffin, Groove in Baltimore
Ryan Sysko, WellDoc Inc. in Baltimore
Todd Marks, Mindgrub in Baltimore
Christopher Brandt, Audacious Inquiry LLC in Catonsville
Philip Green, Intelligent Solutions for Information Systems LLC in Columbia
Kwame Kuadey, GiftCardRescue.com in Columbia
David Costello, Costello Construction in Columbia
Chris Mechanic, WebMechanix in Columbia
Mike Battle, Battle Resource Management Inc. in Clarksville
Bill Kraus and Steve Newton, Mission BBQ in Glen Burnie
Bruce Zwicker, Haines in Glen Burnie
Jacky Kimmel, InfoTeK Corp. in Hanover
Len Moodispaw, KEYW Corp. in Hanover
Doug Stewart, Milestone Intelligence Group, Inc. in Hanover
Robert Graybill, FMS Solutions in Pasadena
Chuck Faughnan III, Bridges Consulting Inc. in Annapolis Junction
Linda Abell, Security Vault Works Inc. in Laurel
Rick Wuest, Thompson Creek Window Co. in Lanham
Kevin Switick, AVIAN LLC in Lexington Park
Christopher Toleman, Arocon Roofing and Construction LLC in Westminster
Danny BenDebba
Danny(at)daasn(dot)com
http://www.daasn.com
410.903.8845