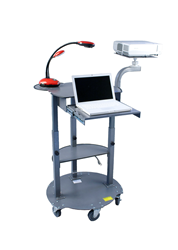 Our products provide teachers with the tools they need to more effectively do what they do best which is teach, without having to focus on the audiovisual landscape.
Fountain Valley, CA (PRWEB) May 27, 2014
SecurityWorks, Inc. today announced the launch of its new division: GORILLAdigital, an entity focused on the design and manufacture of ultra-rugged and innovative IT support products. In conjunction with this announcement, the company also released its flagship product, the KONGcart 2000 Series, a reinvented, patented audio-visual (AV) cart that makes carts a viable option for today's classrooms.
"Three school districts joined with us in a design project to reinvent the AV cart after teachers and administrators concluded that the old-style carts didn't fit with today's equipment," says Christopher Meyer, president of SecurityWorks. "Our products provide teachers with the tools they need to more effectively do what they do best which is teach, without having to focus on the audiovisual landscape."
The KONGcart 2095 is designed to accommodate a projector, a document camera, a tablet or laptop, and a sound system; all the equipment is physically secured, yet fully adjustable and within easy reach. This allows teachers to face their students and project to the rear of the classroom without the glare from the projector getting in their eyes. In addition, the KONGcart has built-in cylinders that allow the cart's work surface to adjust from 29" to 42" while in use. This allows primary-grade teachers to sit down while teaching, so they can maintain eye contact with their students. It also promotes good health by giving teachers the option of sitting or standing while teaching.
The KONGcart has already impressed schools, including San Leandro High School in California, where there is a KONGcart in every classroom, along with a GORILLAdigital bundle that includes a projector, document camera and speaker.
"The KONGcart is so well made, it holds up quite nicely in the high school environment where many other products do not," says Roxanne Ansolabehere, San Leandro High School's multi-media director. "Teachers love the fact that the equipment is right at their fingertips and physically secured to the KONGcart, so they just push a button and get to teaching each morning."
Along with the introduction of the KONGcart series, the company also announced the release of two other products developed for the education space. The MONKEYmount 280 is an all-in-one universal mounting product that serves as a stand-alone solution for tablets. The unique ball-joint pivot allows the tablet to be positioned parallel to the surface on which the stand sits, so the tablet can be used as a document camera.
The APEcase is an iPad case with a wireless keyboard. The patent-pending design has detachable keyboard and iPad with an innovative kickstand.
To purchase products or receive more information, contact: 800-880-3988, ext. 301 or 308, info(at)goapedigital(dot)com, http://www.goapedigital.com.
About GORILLAdigital:
GORILLAdigital designs and manufactures multimedia and AV carts that facilitate the mobility and security of small-form-factor IT hardware in any workplace. The company works closely with customers in education, medical, service bay and manufacturing/distribution segments to provide IT support solutions that are secure and mobile while maintaining ergonomics and ease of use. GORILLAdigital products offer full-featured patented solutions that are value priced.
About SecurityWorks, Inc.
SecurityWorks, Inc., a privately held company based in Fountain Valley, California, with a New York-based sales office, designs products on an OEM and ODM basis for institutional clients who require physical security for small-factor IT devices. For more information about SecurityWorks, Inc. products, contact SecurityWorks, Inc., 17233 Newhope St., Ste G, Fountain Valley, CA 92708 USA. Phone: (714) 668-8800; Fax: 714-668-8808; Internet: http://www.securityworks-inc.com; info(at)securityworks-inc(dot)com.