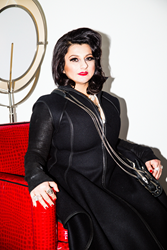 I am delighted to be hosting an exciting series of BritWeek events at the Hotel Shangri-la again this year.
(PRWEB) April 30, 2014
Tamie Adaya, renowned art patron and owner of the Hotel Shangri-la at the Ocean in Santa Monica is once again hosting a series of exciting events showcasing Britain's hottest talent in fashion, modeling, jewelry and design during BritWeek™ 2014. In its eight successful years, Los Angeles BritWeek will be celebrated around the city between April 21 and May 4.
This year's events at the Hotel Shangri-la are being specially curated by Adaya and include some of the most sought after BritWeek programs celebrating the multiplicity of creative links between the U.K. and Los Angeles.
Getting to Know You Salon – Tuesday, April 29, 2014
8 pm, Hotel Shangri-la Penthouse
An intimate rooftop salon moderated by Art Patron Tamie Adaya in Hotel's Shangri-la's Penthouse featured an up close and personal dialogue with the U.K.'s hottest talent.
Scottee is a 28-year-old performer, director, artist, broadcaster and writer from Kentish Town, North London. He is a regular contributor for BBC Radio 4's Loose Ends, Huffington Post and i-D magazine. He is currently an associate artist at Olivier award winning company Duckie and the iconic Roundhouse. Scottee is currently touring his debut solo tour The Worst of Scottee which won Total Theatre Award in Edinburgh 2013.
Born in Suffolk, Felicity Hayward moved to London to study photography. Leaving university with First Class Honours, she had her work commissioned to be displayed on the London Underground with company Art Below. In 2012, Felicity was approached by Storm Management to start her career as a plus-size model and has been featured in Vogue, Glamour, Ponystep and TK Maxx.
Suite 700 DJ Party – Thursday, May 1, 2014
9 pm, Hotel Shangri-la Suite 700 Rooftop Bar and Lounge
On top of the world overlooking the Pacific, the Hotel Shangri-la Suite 700 DJ party promises to be an intimate, low-key gathering of special guests hosted by Britain's top female creative talent.
"I am delighted to be hosting an exciting series of BritWeek events at the Hotel Shangri-la again this year," said Tamie Adaya, art patron, social architect and owner of the Hotel Shangri-la at the Ocean. "Nothing is as personally and professionally rewarding than this opportunity to showcase the sceptered isles' hottest talent to the U.S. from right here in Santa Monica," she added.
'Village fete' Tea Party – Sunday, May 4th, 2014
2:00 pm, Hotel Shangri-la Courtyard
This poolside afternoon 'Village fete' soiree features some of the best loved British childhood playground games, including Guess The Weight Of The Cake, Penny Up The Wall and everyone's all-time favorite, Hopscotch. Along with the fun and games, guests will enjoy complimentary classic post-World War II British tea and biscuits to top off the festivities.
About BritWeek™
BritWeek's mission is to create greater awareness of the many ways in which Britain and the U.S. work closely together and further build relations to advance business, the arts, and philanthropy in both of these thriving regions of the world. BritWeek celebrates the multiplicity of creative links between the U.K. and Los Angeles with dozens of events across multiple categories including, film and television, music, art, fashion, design, retail, sport, philanthropy, business, and more.
In addition to the events hosted by Adaya, other BritWeek art events will range from a show by acclaimed three-dimensional artist Jeff Robb in Beverly Hills, to Shakespeare inspired street art for children led by leading LA street artist Man One. Science will be headlined by Caltech's eminent British astro-physicist Richard Ellis, speaking at the Griffith Observatory (which was designed by a British architect). The events attract support from thousands of people, including international celebrities as well as business and political leaders. For more information, visit http://www.britweek.org/los-angeles-events/.
About Tamie Adaya
As a student of art, history, pop-culture, and politics, Tamie Adaya brings a distinctive viewpoint to her iconic Santa Monica boutique hotel property. Long a family treasure, the recently re-branded and remodeled Hotel Shangri-La is a reflection of Tamie's palate—featuring clean, crisp lines, modern lifestyle amenities with a classic flair, an unprecedented attention to detail with a whimsical unpredictability that makes each visit a discovery in self-expression, escapism and pure enjoyment.
An avid traveler and student of modern-day life, Tamie is constantly seeking inspiration from other great cities, famous hotels, famed restaurants and museums, but has also found there is no greater way to be inspired than by bringing diverse and interesting people together at her hotel. From international DJs to writers, professors, photographers, celebrities and just close friends, Tamie often brings her diverse group of friends and associates together for a night of intellectual chat ranging from politics to fashion to the current state of the music industry. Visit http://www.tamieadaya.com/about/ to learn more.
About Hotel Shangri-la
Hotel Shangri-la at the Ocean in Santa Monica is anything but ordinary. Overlooking the Pacific since 1939, the hotel is a striking beacon of Art Deco elegance, a chronicle of the golden era of Hollywood and a quintessential nexus of culture. Hidden away on a high Santa Monica bluff overlooking the ocean and historic Santa Monica Pier, this timeless luxury boutique hotel promises guests their own personal Shangrila. Guests enjoy brilliant views of the Pacific Ocean, a celebrated history and a cultural connection during their stay. In the U.S., for toll-free room reservations only, please call (800) 345-STAY (7829) or for more information, visit http://www.Shangrila-Hotel.com.