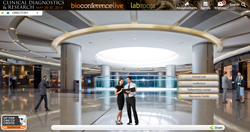 Yorba Linda, CA (PRWEB) April 30, 2014
BioConference Live, the largest producer of online-only conferences focused on life sciences and clinical diagnostics, has announced the 5th Annual "Clinical Diagnostics and Research" Virtual Conference. The one-of-a-kind web-based conference is slated to take place May 28-30, 2014, and will be conducted through live video webcasts and real-time networking. This comes as good news to many in the clinical research community who are seeking alternatives to customary (often expensive and time consuming) physical conferences and ways to earn free continuing education credits.
This year, BioConference Live presents Steven Wong, PhD, DABCC, FACB, President, AACC 2014, Professor of Pathology and Director, Clinical Chemistry and Toxicology at Wake Forest University School of Medicine, as a speaker in the upcoming BioConference Live Clinical Diagnostics May 28-30, 2014. This will be the first year for Dr. Wong to join the excellent presentations at BioConference Live.
BioConference Live Clinical Diagnostics will also feature presentations from:

Caroline M Apovian, MD, FACP, FACN - Professor of Medicine and Pediatrics, Boston University School of Medicine Director, Center for Nutrition and Weight Management, Boston Medical Center
Elizabeth Kenimer Leibach, EdD, MS, MLS(ASCP), SBB - Principal Officer, Healthcare Management and Education Services (HMES), Education Editor for Clinical Laboratory Science and Expert Consultant for the US Centers for Disease Control and Prevention
Ravi I Thadhani, MD, MPH - Chief, Division of Nephrology Massachusetts General Hospital, Harvard Medical School
Michael Holick, MD, PhD - Professor of Medicine, Physiology and Biophysics, Director of the General Clinical Research Center, Director of the Vitamin D, Skin and Bone Research Laboratory, Director, Biologic Effects of Light Research Center, Boston University Medical Center
Carol Wagner, MD - Professor of Pediatrics, Associate Director, Clinical & Translational Research Center, Medical University South Carolina
Cynthia Foss Bowman, MD - Medical Director, Enzo Clinical Laboratories
Barbara Van Der Pol, PhD, MPH - Associate Professor of Medicine Division of Infectious Diseases, University of Alabama at Birmingham School of Medicine
Trevor L Hawkins, PhD - Senior Vice President of Strategy, Innovation, and Business Development, Siemens Healthcare Diagnostics
Patrick Joseph, MD - Medical Director, Siemens Clinical Laboratory (SCL), Siemens Healthcare Diagnostics
Richard Frank, MD - Chief Medical Officer, Clinical Strategy and Policy, Siemens Healthcare
Eric Vasbinder, BS - Chemistry Automation Supervisor Chemical Pathology Laboratory, University of Michigan Health System
Julia Engstrom-Melynk, PhD - Scientific Affairs Manager, Medical and Scientific Affairs, Roche Diagnostics
And several others. A complete list of speakers is available at http://www.bioconferencelive.com.
BioConference Live Clinical Diagnostics provides invaluable educational and networking opportunities for participants. Attendees can receive free continuing education and continuing medical education credits for all conferences. Clinicians, doctors, medical experts, lab directors and research professionals from around the world will come together to learn about recent advances in clinical diagnostics and medicine. Topics for the conference are Personalized Healthcare, Pathology, Oncology, Infectious Disease, Laboratory Testing, Cardiology, Diabetes, Point of Care, Molecular Diagnostics, Hematology, Automation, Nutrition, Vitamin D, Allergy, Clinical Research, Mass Spectrometry, and much more.
To register for a BioConference Live conference visit: http://www.bioconferencelive.com.
Parties interested in current research in clinical diagnostics should sign up today, for free, to take advantage of live streaming sessions by industry leaders, networking with peers, and exploration of the virtual exhibit floor showcasing the state-of-the-art in life science and medical technologies from companies such as Siemens, Roche, Beckman Coulter and Life Technologies.
About:
Founded in 2009, BioConference Live's vision was to connect the scientific world leveraging a unique virtual platform, discovering meaningful collaborations across geographic boundaries and fields of expertise. BioConference Live has grown into the world's largest producer of virtual events within the Life Sciences and Clinical Diagnostics community. LabRoots is the owner and producer of BioConference Live, and is the leading professional networking website designed to connect all science verticals.