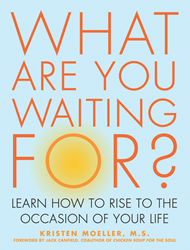 "A self-confessed 'self-help junkie,' Moeller shares how she got past the persistent feeling of falling short and started living."—Publishers Weekly
(PRWEB) April 30, 2014
Kristen Moeller will celebrate the Bay Area release of her book What Are You Waiting For? with a free reading at the Book Passage Marin on May 4th. She will recount her experience of losing everything she owned in a fire, and how the experience helped her let go of material attachment.
Join Kristen at the Book Passage for a free reading.
May 4, 4pm, Corte Madera
What People Are Saying about What Are You Waiting For?:
"Where does patience end and procrastination begin? Kristen Moeller bares her soul to help us understand the answer. She wants readers to start participating in their lives instead of watching them like a movie. AA calls it showing up. Moeller calls it remembering who we really are."
—Retailing Insight, Anna Jedrziewski
"Kristen does so much more than just ask - she guides a reader to connect to the WHY behind all the waiting. It's a compelling invitation to move forward...at one or all levels."
—Mary Anne Radmacher, author of Lean Forward Into Your Life
What Are You Waiting For?
Learn How to Rise to the Occasion of Your Life
After losing her dream home and all her worldly possessions to a raging and sudden wildfire that killed three people and demolished 21 homes, Kristen Moeller dove headfirst into an exploration of our cultural discomfort with grief, the existence of God, finding humor in the midst of tragedy—and what it means to be a human being with all our fabulousness as well as frailties. Through the sharing of authentic personal stories and profound life lessons, Kristen Moeller explores the pervasive human tendency to wait for life and to look outside ourselves for answers in her new book What Are You Waiting For? As Wayne Gretzky said, "You'll always miss one-hundred percent of the shots you don't take!" What Are You Waiting For? is also available as an audiobook.