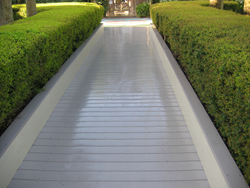 Innovation is at the core of DeckMAX's Product Development Strategy. I am proud we developed products that are safe, effective, non-toxic and environmentally friendly. - Rich Winget, Product Development Manager, DeckMAX
Plymouth Meeting, PA (PRWEB) May 01, 2014
Earth Day (April 22) isn't just celebrated one day a year at DeckMAX, it's a year round initiative! That's because of their Core Values: People, Products, and Planet. The innovation technology team develops products that are effective on decks, safe for families, and the eco friendly deck cleaner products are also safe for Mother Earth.
Spending time on a deck can be a great way to welcome warmer temperature and to enjoy time outdoors, but it can be uninviting if the deck hasn't been cleaned thoroughly in a long time. Hiring deck cleaning professionals may seem like the best option, especially if weekends are packed with activity. Many Do-It-Yourselfer, want to use a deck cleaner that offers great results, but it's still important to choose an eco friendly deck cleaner to be a part of the eco friendly movement.
Like most people who want to switch to products that are better for the environment, it makes sense to find a deck cleaning business that supplies eco friendly deck cleaner solutions. Discussing the kinds of cleaning products that are used when contacting a deck cleaning company can help determine whether or not they would be an ideal choice. Many companies opt for harsh chemicals that are capable of eating through debris that is present on the deck. These cleaning solutions are often a poor option due to the harm that they can cause when the liquid runs off the deck and onto your property. And remember, it's never safe to use bleach-based products!
While it's possible to utilize eco friendly deck cleaner products such as vinegar mixtures, it can still be a very tiresome process and ineffective to remove years of grime from the deck. DeckMAX professionals share the same concern for the environment and use eco friendly DeckMAX products, so consumers can be sure that the results meet expectations.
Joann R. of Morresville, NC exclaims, "I'm a believer of the DeckMax product. Unbelievable! Our dock's decking looks better NOW than it did when it was brand new. That says a lot about your product. GREAT JOB. And, I might add that the customer service and professionalism of DeckMax's employees is refreshing and appreciated."
With the numerous benefits that come with cleaning a deck thoroughly, it makes sense to MAXimize the beauty of your deck™ while protecting the Earth's natural resources.
DeckMAX presents an Earth Day gift! Use Promotional Code EARTH to receive free shipping on the next Purchase. Expires 5/10/2014. Share with family and friends!
DeckMAX is the nation's best deck cleaner and deck cleaning service. Customers, deck manufacturers, contractors and distributors prefer DeckMAX to help restore a deck and reverse the effects of fading, weathering, stains, minor scratches, scuffs, mold and mildew. DeckMAX deck cleaning products and services help to improve your home's deck, patio, porch, fence, railings, and even docks.
For more information, visit [http://www.DeckMAX.com.
Contact: deckmaxusa(at)gmail(dot)com, Emilia Andrews, Marketing & PR Manager