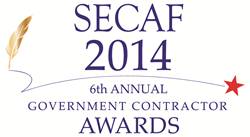 McLean, VA (PRWEB) May 02, 2014
The Small and Emerging Contractors Advisory Forum (SECAF) today released the winners for its Sixth Annual SECAF Awards. SECAF's flagship event honors small and emerging government contractors and the players in the industry that rely on small businesses. Winners were announced yesterday during the annual Awards Gala at the Hilton McLean in Tysons Corner.
Finalists and award winners were selected in eight categories. The Government Contractor of the Year recognizes companies in three size categories that have shown a compelling and profound commitment to excellence in growth and financial performance. The SECAF Award of Excellence highlights an organization that represents excellence within their community, the government contracting industry, and towards employees. The Government Project of the Year is given to a company that has delivered an exemplary program with significant tangible and intangible value to the federal government. The Small Business Partner of the Year is awarded to a large business that has demonstrated its ability to establish and support mentorships, teaming, partnerships, and other beneficial programs for small businesses. The Government Advocate of the Year is awarded to someone that has provided leadership, commitment and direction and has had a profound and positive impact on the small and emerging contracting community. Finally, and new this year, is SECAF's Special Recognition Award presented to a small business that – in the judges' view – exemplifies many of the core qualities of the other SECAF awards and has a strong focus on providing services and solutions that are useful and relevant to customers.
2014 winners are as follows:
Government Contractor of the Year: under $6 million revenues

Government Contractor of the Year: $6 to $12 million revenues

Government Contractor of the Year: $12 to $25 million revenues

Award of Excellence

Integrity Management Consulting, Inc.
Government Project of the Year

Small Business Partner of the Year

AMERICAN SYSTEMS CORPORATION
Small Business Advocate of the Year

Mitchell J. Ross, Director of the Acquisition and Grants Office of the National Oceanic and Atmospheric Administration (NOAA)
SECAF's Special Recognition Award

This year's co-chairs for the Awards Gala each provided additional perspective:
"Congratulations to all of the SECAF award winners. It is a great privilege to recognize these companies that consistently demonstrate the commitment, drive and leadership that enable the government contractor community as a whole to reach higher levels." – Scott Brezler, Dixon Hughes Goodman.
"Year in and year out, they prove to be tremendous representatives of our industry. Moreover, these companies are shining examples of the innovation and growth that is driven by the small business engine of government contracting." – Cameron Hamilton, The McLean Group.
"We thank our SECAF winners, along with all of our finalists and nominees, for their stellar contributions to the government contracting community. We are proud to be affiliated with this tremendous group of companies and greatly look forward to what the next year holds for these companies and the industry as a whole." – Mark Moore, John Marshall Bank.
# # #
About The Small and Emerging Contractors Advisory Forum
The Small and Emerging Contractors Advisory Forum (SECAF) enables the small and emerging government contractor to achieve maximum growth rates in a highly competitive marketplace. Arming members with business resources, access to influencers and government agencies, and advocacy opportunities and education, SECAF is an important resource for a growing company. SECAF also serves the medium to large government contractors, providing invaluable introductions to specialized small businesses that enable the overall contracting community to work successfully in tandem. For more information, visit http://www.secaf.org.