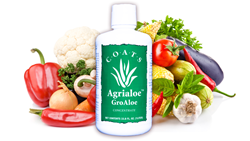 Dallas, TX (PRWEB) April 30, 2014
Field trials performed at the Texas A&M University AgriLife Research and Extension Center in Beaumont, Texas support that Coats AgriAloe's newest soil amendment GroAloe reduces the severity of narrow brown leaf spot under certain conditions.
The company is offering free samples of GroAloe, a soil amendment made from 99.4% organic Aloe Vera.
Narrow brown leaf spot is one of Texas' most prevalent fungal pathogen-borne diseases. These trials, conducted over the course of this past June, July, August and September, attempted to address several major diseases afflicting rice production in Texas. During the summer months, soil temperatures elevate to a less-than-optimal temperature, making it difficult to treat certain fungal-borne diseases like narrow brown leave spot. These results provide a crucial step forward in Texas' continually growing rice crop.
GroAloe application took place across two media: seedling application and foliar application. Even though results showed that GroAloe did not significantly control or reduce the severity of those diseases as a seedling application, it did reduce the severity of narrow brown leaf spot as a foliar application compared to untreated leaves.
Researchers also cited that GroAloe's results during seedling application could be due to the warm soil temperature. As soil temperature increases, the severity of seedling diseases decreases, thereby impeding any accurate measure of severity reduction. Researchers have advised that additional field trials be conducted with soil temperatures more conducive to severe seedling diseases.
Meanwhile, further field research and chemical modification is taking place as the progress of GroAloe continues to advance.
For more information on this field trial or on Coats Agrialoe, visit AgriAloe.com. For any questions or requests for a free sample, contact AgriAloe at 1-800-486-2563.