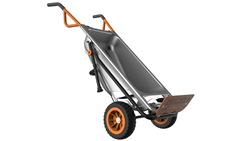 Charlotte, NC (PRWEB) April 30, 2014
AeroCart exploits the physics of leverage. As a wheelbarrow, its tub is specially shaped to concentrate the center of gravity directly over the wheels. This creates a perfectly balanced load that can be lifted and moved easily. In test results, a 200 lb. load feels more like 17 lbs. Plus, having two wheels improves stability and alleviates side-to-side movement, which is common in conventional wheelbarrows.
"What impressed us with AeroCart was its ability to handle so many different jobs and handle each of them well," said Jeanne White, Rockwell's Senior Product Manager.
AeroCart's narrow 22 in. width takes it through fence gates and through most homes' front doors to transport furniture, totes, boxes, refrigerators (up to 300 lbs.) and even demolition debris.
Converting from a wheelbarrow to a hand truck is quick and easy. Pull the release knob on the side of the cart and fold the legs until they lock in place. Pull the dolly plate at the base of the cart to the right and fold down until it locks in place
The multi-purpose cart is equipped with several accessories, including a cylinder dolly for transporting water jugs and propane tanks. Drop-down extension arms can be used to move logs. When moving large plant containers, a cinch strap with a set of steel rings that loop over the extension arms is provided to secure the planter for transport. For moving rocks, a mesh sling is provided to carry rocks from one area to another.
The cart also is equipped with a bag holder accessory that slips into the tub's rim and steadies paper refuse bags for loading grass clippings, leaves and other yard debris. Also, by attaching a receiving ball hitch (1-7/8-in. or 2-in. ball, not included) to the AeroCart it enables the cart to jockey an empty boat, personal watercraft, snowmobile, ATV or motorcycle trailers up to 1,000 lbs.
AeroCart's tubular steel, powder-coated frame and drop down extension arms are durable and long lasting. The frame wraps around the steel 3-cu.-ft. capacity wheelbarrow tub. Two steel extension handles with foam-padded grips aid mobility. The handles are removable for transport and storage. AeroCart's flat-free dependable 23.5-in. diameter, rubber composite tires maintain constant air pressure and never need inflating.
The cart's overall dimensions in dolly mode are 58-in.H x 22-in.W x 19-in.D. In wheelbarrow mode, the cart is 19-in.H x 22-in.W x 58-in.L. The multi-purpose cart supports loads up to 300 lbs. in wheelbarrow and hand truck configurations.
AeroCart's optional accessories include a Wagon Conversion Kit, (WA0228, $79.99); Snow Plow Attachment, (WA0230, $49.99); and Watering Bag, (WA0229, $19.99).
The WORX AeroCart(WG050, $159.99) is available through http://www.worx.com.
Like and follow WORX at https://www.facebook.com/worxus and https://twitter.com/WORXTools .
# # #