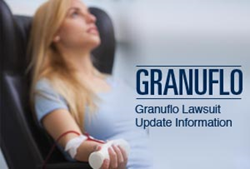 Wright & Schulte LLC, a law firm that guarantees the aggressive and personal representation you deserve. Contact Wright & Schulte LLC today for a FREE GranuFlo lawsuit evaluation by visiting yourlegalhelp.com or call 1-800-399-0795.
Columbus, OH (PRWEB) May 03, 2014
The lawyers at Wright & Schulte LLC have learned that U.S. District Judge R. Brooke Jackson issued an order on April 9 in the U.S. District Court, District of Colorado that because DaVita Healthcare Partners Inc. did not manufacture the concentrates used in dialysis, and plaintiffs in these GranuFlo lawsuits could not pursue breach of warranty or failure to warn claims against the company. However, the court ruled that plaintiffs in the dismissed GranuFlo lawsuits could pursue fraudulent concealment claims, Colorado Consumer Protection Act violation claims that do not involve allegations that the company had a duty to warn, and negligence claims concerning DaVita's failure to provide notification of blood pH level changes. The case is Thornton v. DaVita Healthcare Partners Inc., No. 13-563.
The firm is continuing to offer free legal evaluations to dialysis patients or their family members who may be eligible to file a GranuFlo dialysis lawsuit. For more information about GranuFlo injury lawsuits or to schedule a free GranuFlo dialysis lawsuit evaluation, please visit YourLegalHelp.com or call 1-800-399-0795.
Fresenius Medical Care manufactures the dialysis concentrates GranuFlo and NaturaLyte, which work to remove blood toxins during dialysis treatments. In 2012, the U.S. Food and Drug Administration (FDA) issued a Class 1 recall of these products because of dosing issues that caused some patients to suffer serious and sometimes deadly cardiovascular side effects. Class 1 safety notices are issued by the FDA only when a product poses the risk of causing serious injury or death to consumers.
[fda.gov/MedicalDevices/Safety/ListofRecalls/ucm309990.htm, FDA, March 29, 2013]
More than 1,500 GranuFlo dialysis lawsuits have been filed across the country against Fresenius by patients or their families alleging cardiovascular injury related to the GranuFlo recall. More than 600 of these lawsuits have been consolidated to a federal multidistrict litigation underway in U.S. District Court, District of Massachusetts. These GranuFlo dialysis lawsuits share similar issues of fact and allege that plaintiffs suffered serious injury and even death caused by the use of GranuFlo or NaturaLyte during dialysis. (In re Fresenius GranuFlo/Naturalyte Dialysate Litigation, MDL No. 2428)
The GranuFlo lawsuits purport that products such as GranuFlo or NaturaLyte concentrates used during dialysis therapies have caused patients to suffer low blood pressure, hypoxemia, hypokalemia, hypercapnia, cardiac arrhythmia or cardiopulmonary arrest. The dialysis lawsuits also claim that Fresenius knew or should have known that the products could cause injury and whether the manufacturer provided adequate warnings and instructions regarding their use. The lawsuits also allege that Fresenius even after the risks of GranuFlo and NaturaLyte were known, the company continued to aggressively market them. Court documents show that Fresenius sent a memo in 2011 to its own clinics warning that GranuFlo had been associated with an increased number of cardiac events in 2010. The company advised its clinic doctors to adjust the dosage of the products to avoid elevated blood pH levels in patients. However, the company did not issue that warning to physicians in clinics outside of the Fresenius network until 2012.
About Wright & Schulte LLC And Free GranuFlo Dialysis Lawsuit Case Evaluations
Wright & Schulte LLC, an experienced personal injury firm, is dedicated to the belief that America's legal system should work for the people. Every day, the attorneys of Wright & Schulte LLC stand up for the rights of people who have been injured or wronged and fight tirelessly to ensure that even the world's most powerful corporations take responsibility for their actions. If you're looking for a law firm that will guarantee the aggressive and personal representation you deserve, please do not hesitate to contact Wright & Schulte LLC today. Free GranuFlo dialysis lawsuit case evaluations are available through yourlegalhelp.com or by calling 1-800-399-0795.
Contact:
Wright & Schulte LLC
812 East National Road
Vandalia, Ohio 45377
1-800-399-0795
http://www.yourlegalhelp.com
Like us on FaceBook
Follow us on Twitter