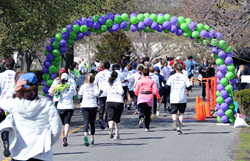 We are all committed to creating a world free of Lyme and other tick-borne diseases.
Stamford, CT (PRWEB) April 30, 2014
Nothing could diminish the spirits of more than 200 runners and walkers who turned out for Lyme Research Alliance's 3rd annual 5K "Race Against Lyme" on Sunday at Cove Island State Park, Stamford—not even the chilly, blustery conditions.
"We'll just run faster," said one runner, sipping a cup of hot coffee. "I'm looking forward to the warm-up exercises," laughed another, as she and three friends bounced up and down in an effort to keep warm.
Timed to help kick off Connecticut's Lyme Disease Awareness Month, the event was held to raise awareness and critically needed funds for Lyme disease research.
Senator Richard Blumenthal, who is co-sponsoring the Lyme and Tick-Borne Disease Prevention, Education and Research Act, was among those in attendance to show his support for LRA, the nation's largest nonprofit funder of university-level research into Lyme and other tick-borne diseases, and those who support its research efforts.
"Lyme disease is an insidious, pernicious [disease] that affects people of all ages and backgrounds," he told the crowd. [But] "step by step, day by day, we're going to make progress…you are leading the way."
LRA Executive Director Peter Wild thanked Senator Blumenthal for attending the event and for "leading this fight on the Hill."
LRA Board Member Mark Hopwood, a Trumbull resident, also spoke at Sunday's event, sharing his experience as a Lyme patient. Hopwood saw 10 different doctors over a two-year period before receiving the proper diagnosis. Since it took so long to get a diagnosis, he still suffers from the disease, though he is doing much better, he said, and managed to run in this year's Race.
Hopwood explained that when he was introduced to LRA two years ago, he started to feel "empowered and hopeful…I was no longer alone, in isolation. I was part of a community of fighters making a difference." Looking out at the crowd, he said: "Regardless of whether you are here today because you have struggled with Lyme in the past, are currently fighting it, or are supporting friends or family members with Lyme—we are all in this together. And together, we are strong."  
Chris Nocera of Stamford took home the first place 5K spot with a finish time of 16:57. The first place 5K female runner was Dana Blanchard of Greenwich, with a time of 21:29. Each received a $50 gift certificate from Greenwich Running Co. and a $25 gift certificate from Fleet Feet. The second place male and female runners were David Kochi of Stamford, with a time of 20:08 and Abigail Lorge of Stamford, 22:01. To see complete race results, please visit http://www.plattsys.com.
The top fundraising award went to the Hopwood family, which raised about $4,000. The top individual fundraiser was Brittany Farsetta, with over $1,000 raised.
Sponsors for the race included Connecticut Tick Control/Tick Box Technology Corporation, Greenwich Running Company, The Edge Fitness Clubs, Fleet Feet of Stamford, Greenwich Department of Health, IGenex, Stamford Department of Health, Crystal Rock, WSHU Radio, Costco Wholesale Club, Bigelow Tea,Trader Joe's-Stamford and Colupon.The warm-up was led by Joanne Mortimer, The Edge Fitness. Photos by Bob Luckey.
"LRA wants to extend a huge thank you to those of you who attended, volunteered, participated, sponsored and supported our annual 5K," said Wild. "We are all committed to creating a world free of Lyme and other tick-borne diseases and your efforts make a big difference in moving us towards that goal."
NOTE: Photos for LRA's 2014 "Race Against Lyme" can be found on Pinterest.
_________________________________________________________________________________
Lyme Research Alliance, formerly Time for Lyme, is a Connecticut-based, national non-profit that funds cutting-edge research into Lyme and other tick-borne diseases. For more information go to http://www.LymeResearchAlliance.org.