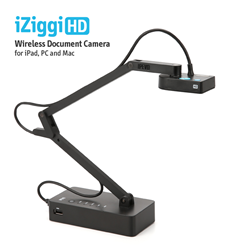 iZiggi-HD delivers a full-featured, high-definition, wireless, and affordable doc cam that's perfect to pair with iPad.
Sunnyvale, CA (PRWEB) April 30, 2014
Responding to the ever-growing number of iPads in modern classrooms, education technology company IPEVO has released a wireless document camera for iPad, the iZiggi-HD. Building off the success of IPEVO's iconic line of affordable document cameras for PC and Mac, including the original Ziggi-HD as well as the Point 2 View, iZiggi-HD has the ability to stream live, high-resolution images of documents, pictures, 3D objects, and devices such as smartphones directly to iPad over WiFi. The iZiggi-HD Wireless Document Camera is now available at a price of $159 from the IPEVO Online Store at http://www.ipevo.com.
IPEVO emphasizes the portability of iPad for sharing teaching material, which is now complemented by a document camera that is similarly wireless. Free from the traditional teacher's desk at the front of the room, educators can more closely interact with students for one-on-one sessions at the student's desk, outside, or on a field trip. iZiggi-HD is also ideal for capturing large, fragile or unwieldy items which cannot easily be brought and placed underneath a traditional, wired doc cam.
Inherited from previous generations of IPEVO doc cams is iZiggi-HD's multi-jointed swing-arm, which provides a near-limitless amount of angles and heights for capture. Also present is a 270° swiveling head which allows faster and easier orientation to ensure readable text. Additional features serve to customize capture, including an exposure toggle and two switchable focus modes.
iZiggi-HD's 5 Megapixel camera delivers a high-definition resolution of 1600 x 1200 pixels via WiFi and 2592 x 1944 pixels when directly connected to PC or Mac via USB. High resolutions are appropriate for detailed close-ups for very small text and for science demonstrations, to name two examples. A 6x digital zoom further enhances the educator's ability to capture fine details. Also available via a wired computer connection is IPEVO Presenter software, which adds features such as Full Screen Mode, integrated Evernote support, and Review Mode to manage snapshots. A USB storage device can also be connected to iZiggi-HD, giving the user the ability to wirelessly share access to stored files and to save captured snapshots.
iZiggi-HD can also transform iPad into a portable, interactive whiteboard through use of the free IPEVO Whiteboard app. Educators can annotate the live image in real time to help clarify teaching material through use of lines, shapes, text boxes, and other simple drawing tools. The live image as well as live annotations can then be displayed on the classroom's projection screen when iPad is connected to the projector.
"A document camera wired to a PC or Mac does great things in the classroom, but many innovative educators also want to explore teaching with the iPad," said Royce Hong, CEO and big head of design for IPEVO. "iZiggi-HD delivers a full-featured, high-definition, wireless, and affordable doc cam that's perfect to pair with iPad. Teachers as well as students are free to use the doc cam anywhere inside or outside of the classroom. Interaction and engagement can be taken to the next level, and that's what's really exciting about using iZiggi-HD for teaching."
The iZiggi-HD Wireless Document Camera for iPad is now available directly from IPEVO's online store at http://www.ipevo.com.
About IPEVO
IPEVO designs and sells innovative products to enrich today's connected lifestyle. We recognize the immense potential of new technologies to help people create, teach, learn, and inspire. From classroom to living room to conference room, IPEVO is dedicated to making technology more available, accessible, and affordable for all.
For more information, visit http://www.ipevo.com.