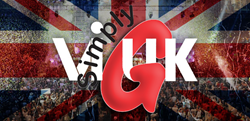 It was a great trip and people were great in the UK," said Reynolds,
Lincoln, NE (PRWEB) May 07, 2014
Neil Haley, The Total Tutor host of the Simply G Radio Show, interviewed GJ Reynolds to find out about his tour to the United Kingdom.
Reynolds is an original founding promoter in the company ViSalus, a 5 Star Ambassador, a VI Millionaire, and the CEO of Simply G Media. He is the author of The Playful and Powerful Warrior Within You, has worked out for over 900 days straight, and has won the Dale Brown Challenge.
"It was a great trip and people were great in the UK," said Reynolds, who shared on the radio show about his experience on his trip to the UK. He also talked about some of the historical sites he visited in London, such as Big Ben, Buckingham Place and Abbey Road.
Reynolds explained that he headed to Reading and had a Challenge Party to kickoff of his Invasion Tour.
"We had a great turnout. Then, went to South Hampton and had a Challenge Party and Training."
Reynolds said that he had a new host throughout the whole tour. He held a photo contest this month where fans took a picture with his book and posted to social media. Reynolds took a picture with the horse of two of his team members, Pete and Hillary Webb. Reynolds said, "It looked like Codie was enjoying the content of my book!" The Webb's daughter is an equestrian rider and future UK Olympian.
In the interview, Reynolds expressed his affection for the UK and said he has been having a lot of fun. One way he has broken the ice with his neighbors across the pound, Reynolds shared how he received a welcome letter from British Airways saying Lord Reynolds. He was playing around on the trip and gave leaders of his team different royal names and titles.
During the trip, Reynolds visited 10 cities in 7 days. He did trainings and challenge parties in all 10 cities. He was promoting a health and weight loss challenge at each location and sharing his own personal transformation.
You can find out more information on Simply G Media by going to http://simplyg.com/media/simplyg-radio/