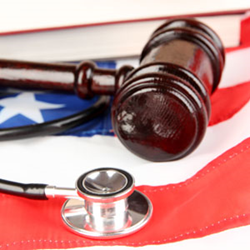 All persons are entitled to just compensation for their injuries especially victims of medical malpractice
Fort Lauderdale, Florida (PRWEB) June 30, 2014
Founding partner of Abramowitz & Pomarantz Howard L. Pomerantz has more than 30 years of experience in medical malpractice cases in and out of court. Recently, he commented on a recent decision by the Supreme Court of Florida which overturned the statutory caps on non-economic damages for wrongful death, due to medical malpractice. Mr Pomerantz noted "while the court's ruling does not specifically address the issue of patients who survived significant injuries due to malpractice, this precedent is likely to provide new hope for Florida residents who have been harmed due to the negligence of healthcare providers."
The case examined by the Supreme Court was No. SC11-1148, the Estate of Michelle Evette McCall, et al, Petitioners, vs. United States of America, Respondent. McCall received medical treatment at a U.S. Air Force clinic throughout her pregnancy; however, during the last trimester, McCall was diagnosed with high blood pressure and severe preeclampsia. These conditions necessitated the immediate inducing of labor. Delays on the part of hospital staff and failure to monitor and address blood loss during the subsequent delivery of her son and the post-delivery process resulted in the death of McCall. The U.S. District Court for the Northern District of Florida determined that the non-economic losses sustained by McCall's parents and her infant son amounted to $2 million; however, Florida's statutory cap on these damages was applied to reduce this amount to $1 million. McCall's estate appealed the ruling, and the Florida Supreme Court found in their favor.
This ruling is good news for the clients of Abramowitz & Pomerantz, P.A., a prominent Fort Lauderdale medical malpractice law firm located in the South Florida area. The firm has represented numerous Florida injury victims successfully.
The case involved a radiologist alleged failure to diagnose lung cancer (Broward County Circuit Court case number 05-007301 (11)). The firms client, a 61-year-old woman had curable lung cancer that went undiagnosed / missed by radiologists for two years in a row on chest x-rays. By the time her lung cancer was found it had spread to other parts of her body, eliminating her opportunity for surgery and cure. The firm obtained a $1,500,000.00 settlement on behalf of the client.
About Abramowitz & Pomerantz:
The Fort Lauderdale Personal Injury law firm of Abramowitz & Pomerantz represents individuals and families in cases of wrongful death, personal injury and medical malpractice. By helping these clients obtain financial compensation for their losses, Abramowitz & Pomerantz can provide a measure of closure for grieving families and injured individuals.