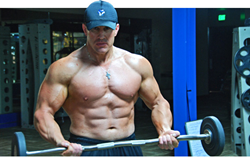 "GJ and I are very alike. We both had our struggles in life but we were both able to overcome these challenges and find our purpose."
Denver, CO (PRWEB) May 29, 2014
Neil Haley, The Total Tutor host of the Simply G Radio show, interviewed Kent Paul to find out about his business and how he is promoting the Challenge.
Paul, a former baseball player for the University of Northern Colorado, became a competitive bodybuilder in 1991. In his first competition, Paul finished second in the heavy weight class in the Mr. Northern Colorado Championships.
Ed Connors, owner of Venice Beach Gold's Gym, offered Paul a full sponsorship to pursue a bodybuilding career. Connors introduced Paul to the best trainers and nutrition gurus in the world. The secrets to transforming the body and the knowledge to maximize human potential would become the key to his success not only in bodybuilding but also in business. Kent graduated from the University of Northern Colorado in 1995 with a B.A. in Kinesiology and Nutrition and started his own fitness training business.
In 1998 he was named Mr. Colorado in bodybuilding and this would open up many doors in his life, including the chance to compete at a national level. Paul became world ranked in 2000 and held that ranking until 2002 when he retired from the sport of bodybuilding.
In the interview, Paul shared why he wants to promote the challenge.
"I want to help people and help fight obesity that is why I am promoting the challenge," said Paul. Paul also announced that he is launching an online fitness program. The program contains a 9-week transformation system and Visalus products. Paul said he wants to give others the guidance and the meals to make sure their challenge is a success.
Paul said he loves the message of the 90-day challenge, and is a big fan of the incentive of the challange that says if you lose or build ten pounds you are able to help a child in need.
"We need to get others out of their comfort zone," said Paul. "It takes baby steps, but acting is half the battle."
Paul mentioned that he is so excited to be working with GJ Reynolds. "GJ and I are very alike. We both had our struggles in life but we were both able to overcome these challenges and find our purpose."
GJ Reynolds said, "Kent has a powerful story. A story that is able to have positive impact on many! He is a great example of how one person is able to rise up from extreme challenges and be the best he is able to be! I love these kind of stories! Kent is a living example to help others be empowered."
To join the challenge, go to http://www.kentpaulfitness.com. You can listen to the interview now by going to http://simplyg.com/media/simplyg-radio/.