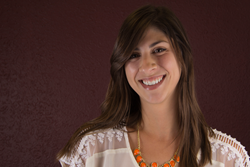 I know [Caroline] is going to be absolutely epic to both the agency and our clients
Norman, Okla. (PRWEB) April 30, 2014
McMahon Marketing hired Caroline Aur as Director of Operations on to streamline office organization and strengthen communication with more than 20 clients.
In 2011, Aur worked as a top case manager for a Norman law firm to obtain U.S. visas for athletes, entertainers and professionals.
"My experiences in customer service and client management will prove invaluable in this new role," Aur said, "I love working with clients to creatively overcome challenges."
Aur is working to optimize the agency's organizational efficiency, while maintaining client satisfaction at an all-time high.
Principal Korey McMahon said adding Caroline's organizational expertise to the McMahon Marketing team will help to build and advance client relationships daily.
"I love the close-knit, family atmosphere at McMahon," Aur said, "It's exciting to contribute and grow in such an incredibly positive environment."
From office management to vendor communication, Aur creates systematic processes to push the agency's award-winning service forward.
"Adding Caroline to the team will upgrade our company to run even more smoothly," McMahon said, "I know she's going to be absolutely epic to both the agency and our clients."
Founded in 2011, McMahon Marketing is a full-service marketing and creative agency located in Norman, Oklahoma. McMKT helps clients isolate their brand messages by utilizing online avenues such as social media, digital and traditional public relations and graphic design. Most recently, they are the recipient of the U.S. Chamber of Commerce Small Business of the Year Award, Best of Norman Marketing/Advertising Agency and an OKC Biz Finalist for Best of Business in the Advertising Agency Category. For more information visit http://www.mcmkt.com.